Emma Boyes
'Paper is my motivation and nature my inspiration'
United Kingdom 10 Aug, 2016. Photos by Keith L Davenport.


The paper artist Emma Boyes has worked with paper cutting for many years, she is a member of the Paper Artist Collective and have had a number of exhibitions around the UK. She is certainly one of Britain's brightest paper-stars.
Emma Boyes has always seen herself as a creative soul, with a great love for nature and art. For many years she worked with 3D-design, but was always longing for something else, something that could give her the opportunity to work more with her hands. When her daughter was born, five years ago, she finally got the chance. During her maternity leave Emma had plenty of time to figure out what she wanted – and right then and there, paper entered the picture.


When she studied 3D and interior design at the University of Teesside in Middleborough, Emma and her classmates did modelling of 3D designs and scale models of interior spaces and they used paper for decoration.


– I found the paper to be so beautiful. The colors, the textures and the entire feeling with the material was pretty. I noticed that something started to grow in me, I couldn't point out exactly what it was, but now I know it was the paper that was my motivation to do something else, says Emma.
"Today, I only see the possibilities when it comes to paper"

Tossed art and the scalpel incident
When Emma first started working with paper cutting, things didn't exactly go as she expected. Emma remembers many times when she crumpled art piece after art piece, broke down in tears and got really angry, just because her hard work didn't turn out to be what she had imagined. And her way to success has not been entirely painless.
– Now, I have worked on my skills and I rarely cut anything wrong, but in the beginning I had to redo over and over again, and I often wondered what I had gotten myself into. But I kept cutting, I challenged myself and at last, I got it right. Today, I only see the possibilities when it comes to paper, but I shall not hide the fact, however, that it has been a few accidents down the road. One time, I dropped my scalpel in my lap and it got stuck in my leg. It was a bit of an 'ouchie'-moment, but what doesn't kill you makes you stronger, says Emma.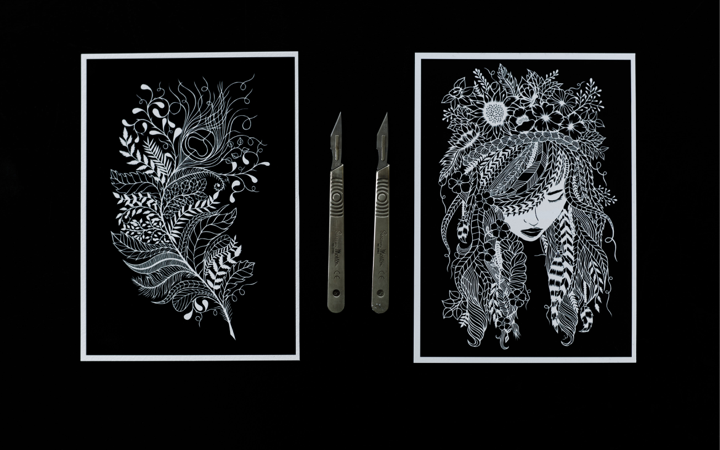 About a year ago, Emma became a member of the Paper Artist Collective, a society for paper artist around the world, today with over 70 members. Emma was one of the first members and was admitted thanks to her creations, which the founders of the Paper Artist Collective found through social media. In May this year, some of the members arranged their first joint exhibition in London.


– The exhibition was called 'Hackney Pac Exhibition' and featured 17 other members, from different places in the world. I exhibited, among others, my pieces 'She was the wild', which depict a girl with feathers and flowers in her hair, and 'Peacock Feather', which is a feather with inspiration from a peacock's tail, says Emma.


Life in the collective and workshops
The collective means a lot to Emma, and she is very happy that there is a place for people to gather and share the same, passionate interest for paper. To network, bounce around ideas, discuss different topics and arrange joint exhibitions are key to spread the art forward. And besides arranging exhibitions and spend hours and hours in front of her sketches, Emma started teaching paper-cutting workshops two years ago.


– I met this lady who had seen my creations, and she owned a little studio. She had talked to a lots of people who was longing to take lessons in paper cutting. So I just started and now I have had around eight workshops, with eight to fifteen people each session. It's so much fun and challenging. Even though their heads, shoulders and hands are aching in the end of the day, most of them love it, says Emma.
Attention for her paper art
Spring of 2016 has been very hectic for Emma, and she is starting to get noticed for her work with a string of commercial commissions now under her belt. For example, the world famous Baltic Centre for Contemporary Art in Gateshead, the place where Rob Ryan held his pop up store in 2015, commissioned Emma to create a large papercut window display. The window display was at the entrance to the Gallery, so that visitors could see it when they walked in. More recently, she had a commission together with two other paper artists from the Paper Artist Collective where they did a large commercial paper design for watch companies Fossil and Watch Station International.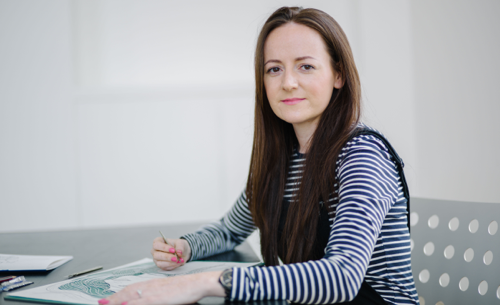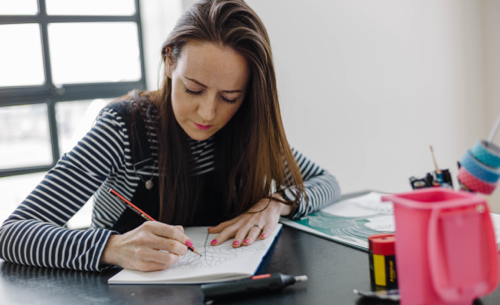 – We created 3D and 2D paper designs for Fossil and other famous watch brands, including DKNY, Marc Jacobs, Michael Kors, Karl Lagerfeld, Skagen, Kate Spade, Tory Burch, Misfit and Armani, for their Autumn Winter watch collection press day. Now, I am reloading for my second exhibition of the year, this time in Helmsley North Yorkshire, says Emma.


The happiness Emma gets from working with her passion really shines through, but she is mostly joyful for the fact that her daughter has inherited her passion as well.– She sits in front of me when I'm working, with her little scissors and her coloring pens. She draws pictures and figures that she cuts out. It's amazing to watch and I'm so extremely happy and proud that she also has a creative soul, says Emma.