Lisa Marie Andersson
From designing dresses to folding paper sculptures
Sweden 2 Nov, 2016. Photos by Daniel Ekbladh.


With her delicate foldings, she has taken the paper world by storm. Designer Lisa Marie Andersson, from Skurup in the south of Sweden, went from designing clothes to doing geometric origami. Now, she has commissions from some of the largest paper companies in Scandinavia.
Designer Lisa Marie Andersson lives in an apartment in the heart of Gothenburg. On her tidy workbench lies a selection of her designs, among them her paper balls, as she calls them. Delicate paper with different prints, colors and patterns are folded into an accordion shape and then put together. They sort of looks like Christmas decorations, but with a modern twist.

– It all began with me and some friends having an arts and crafts night. We folded paper, checked out different blogs and tried out some new stuff. I realized that I found origami extremely fun, and suddenly I was hooked, says Lisa Marie Andersson.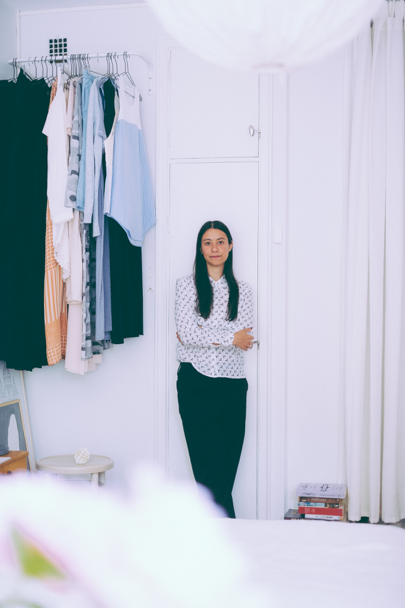 "People were mainly interested in my paper creations, but I also noticed that a lot of people were actually interested in learning how to fold and asked questions on how to get started"

Enter the entrepreneur
Lisa Marie grew up in Skurup, a small town in Skåne, but she's always felt that she would one day move to a bigger city and work with something creative. She moved to Gothenburg in 2006 to study art and visual culture, receiving a bachelor's degree at the University of Gothenburg. The courses were very theoretical, but she also took some practical courses in fashion design and project management. Today, Lisa Marie is an entrepreneur and runs 'Up the Wooden Hills', a web shop where she sells her paper products.

– I started the company in 2010. The name comes from the British pop group Saint Etienne, which I listened to very much when I was a teenager. In the beginning, I mainly focused on fashion clothes I designed and sewed myself. It was incredibly fun, but also extremely difficult and very competitive. Not long after that, I started to focus on my paper creations instead, says Lisa Marie Andersson.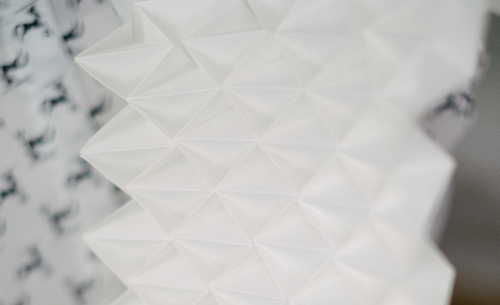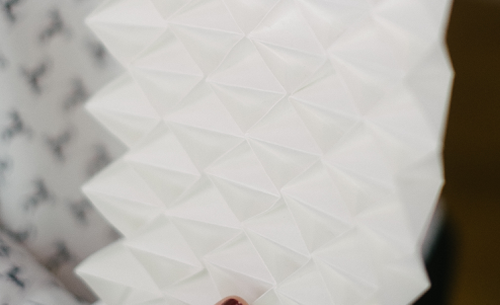 To go from working with fabric to working with paper wasn't a very big step for Lisa Marie, but she believes there are some fundamental differences. A fabric can be more flexible and easier to vary, while paper allows you to make mistakes and experiment more. When Lisa Marie had begun to get a hang of the folding techniques, she also realized she could print her own patterns on the folding paper, something that gave her creations even more depth. She started posting images of her paper creations on her Instagram account and they quickly got a lot of attention. Soon, Lisa Marie had enough material for an entire collection and jumped on the chance to sell them at a designer market.


– After that my business just grew on its own. My Instagram account got a lot of followers and I started to get requests from everywhere. People were mainly interested in my paper creations, but I also noticed that a lot of people were actually interested in learning how to fold and asked questions on how to get started, says Lisa Marie Andersson.


Teaching origami
Then and there an idea started to grow. In 2014, she began organizing workshops for people who wanted to learn about paper folding and origami. The workshops quickly became popular and the sessions were fully booked immediately. For about a year, Lisa Marie had a workshop road trip that went from Gothenburg to Stockholm, Kalmar, Växjö and Malmö, during which participants were taught step-by-step instructions in paper folding.


– We always started with a blank sheet of paper. Then I showed them how to fold, how they should think. It's like making a Christmas cracker, but a bit more delicate of course. There are also a lot of different techniques you can apply, such as geometric origami, which is when you sketch lines diagonally on the paper and then fold to form a zigzag pattern, says Lisa Marie Andersson. Right now though, she has taken a break from the workshops, partly because it was time consuming, but also because she wants to figure out a new approach so that she doesn't dilute the concept too much.



When paper is allowed to be decorative
Lisa Marie's paper creations are designed for decoration, not to fill a particular function. And she prefers to keep it this way, at least for now.

– I love that my creations are allowed to be decorative, adding value to the interior of a room. But perhaps in the future, I could work together with a product designer and create something that is actually useable and practical, says Lisa Marie Andersson.

In addition to her own projects, Lisa Marie also takes on commissions from paper companies like Serla or Edet, where she has created designs in paper towels. She is also very proud of the creation she made for Arctic Paper last year, a paper mill made out of paper. Now, Lisa Marie looks forward to new projects and is longing for having her own exhibition.


– That really is a dream project, to be able to do something that is purely artistic and that I can work with for a long time. I have always seen myself as an entrepreneur or designer, but it is always fun to learn something new, says Lisa Marie Andersson.