Foto Factory
To be a nature photographer is to see the beauty in mother earth
Denmark 11 Aug, 2017. Photos by Charlotte de la Fuente.


Foto Factory is more than just a job for Maria Rosendal and Martin Bay. It is a lifestyle that means an accompanied camera regardless of destination. They have taken pictures all over the world, and have among other things, been charmed by the Faroe Islands magic nature and the Scandinavian rugged landscape.
Martin Bay and Maria Rosendal carry each other's happiness and sorrows, but also camera equipment and photo ideas, through life and career. Foto Factory is a result of their common interest in photography. The company was founded seven years ago. They chose to dedicate their lives to photography and now have a thriving company standing strong on their solid relationship.


– Photography is a lifestyle to us and we cannot go anywhere without thinking about photo opportunities. It has been a common way in which we can express our artistic needs and something we share and develop together as business partners, friends as well as husband and wife, says Maria Rosendal.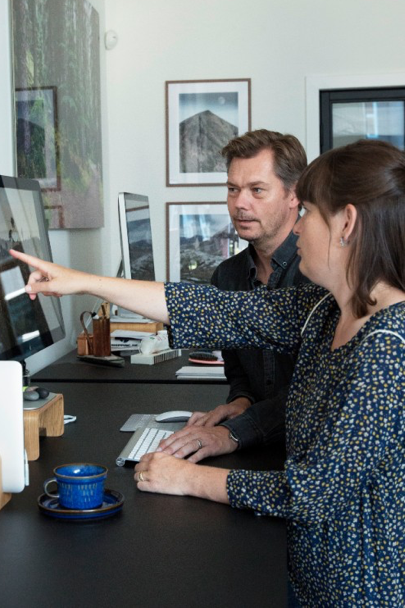 Together, they took their photographing interest to a new level. From hobby to business. Maria and Martin value each other's strengths originating from their different backgrounds. Maria picked up the camera more recently and quickly learned to see the beauty in small details.
– Both of us think we have developed our talent because we cannot stop taking photographs. Martin started in his younger days to explore nature with his camera by documenting all the bugs and critters he found. To me, it started as a process of seeing things more in detail and from different angels, says Maria.
They trust each other's expertise and see only strength in deciding on the next step of their business journey, hand in hand. Each morning, however, the business is set aside to provide space for family life.


– We always prioritize and enjoy having time for a proper breakfast for us and the kids. After sending the kids off we have time to talk and work on whatever needs attention in the studio, says Martin Bay.
"We were swept away by the stories, the galleries and our own eager to live as photographers"

The beginning of Foto Factory
Martin's and Maria's paths crossed 10 years ago. At that time, they were unaware of that they would one day fulfill their common dream to start photographing on a full-time basis. For a while, they settled in Scotland, where the idea of ​​Foto Factory began to grow.

– We were inspired by the Scottish nature and after a visit to Wild Photo in London we were inspired by the photographers to start our own photography business. There is a big tradition of nature photography in the UK and we met photographers high up in the Scottish Highlands andon the mountains of Whales. We were swept away by the stories, the galleries and our own eager to live as photographers, says Martin Bay.


Foto Factory is a concept that allows them to have control over the entire process, from the creation phase to distribution and marketing. A chain of business steps that enables them to distinguish from the crowd. However, Foto Factory primarly gives them the opportunity to do what they love.


– For both of us photography is something we cannot leave behind and love when we can swing the camera over the shoulder and exploring nature, light and compositions, says Maria Rosendal.

Experience nature by the touch of the paper
Foto Factory strives to capture a certain feeling in the photographs, rather than capture yet another beautiful landscape. Martin' and Mary's artistic expressions are best on cloudy days when nature has a melancholy expression.

– We aim for simplicity and authenticity, which go hand in hand with our lifestyle, says Maria Rosendal.

To enhance the feeling of the photographs, they are careful with their choice of paper. The texture of the paper should contribute to the wistful and dreamy expression in the pictures.

– We simply want to add a touch and feel to the images in accordance with the textures you will find in nature. This could be the feel of sand on the beach or bark on trees in the forest says Martin Bay and then adds: – People should get a feeling of being at that exact spot we were when we shot the photograph.


One of the goals of their beautiful nature photographs is to inspire people to venture into nature and experience its beauty. They strive to reach a larger audience to raise awareness and the will to persevere forests and nature.


– From the beginning one of our goals has been to give people the chance to explore these beautiful landscapes we photograph and feel that it is important to keep them intact, says Martin Bay.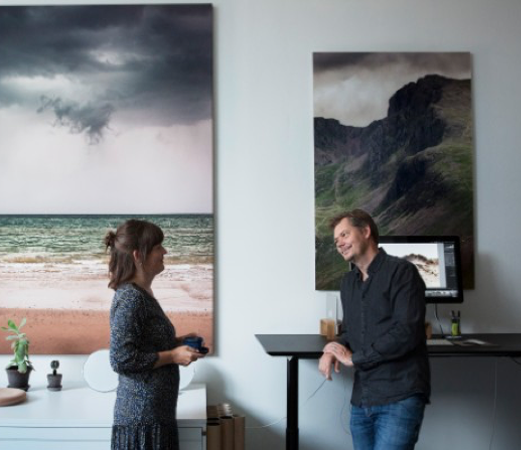 FACTS
Name: Martin Bay & Maria Rosendal
Title: Photographers
Favorite material: Munken Lynx Rough
Favorite tool: Give us a camera… each
Web: foto-factory.com