Daria Alyoshkina
The paper artist inspired by her roots and ancient Ukrainian history
Ukraine 17 Nov, 2017. Photos by Daria Klimasheva.


The Ukrainian paper artist Daria Alyoshkina has a strong connection to traditions and is inspired by the cultural heritage in her paper. Daria believes the saying "learning by doing". – I divide creative people into two categories - those who have talent from God, and the others - where talent comes through daily creative work. I belong to the second, says Daria.
She chose to walk in her parents artistic footsteps and adopt the knowledge about the folk tradition Vytynanka. A craft ancestral from previous generations and kept by its creators. Her parents were craftsmen and creators, and both have inspired Daria through life, but it wasn't until she became a mother herself that she indulged in the making of Vytynankas.

– Vytynanka (papercutting) is a kind of Ukrainian folk decorative art. The name comes from the word "vytynaty", that means "cut". These are ornamental decorations of the house, openwork? or silhouetted with scissors or a knife, made of white or colored paper, says Daria.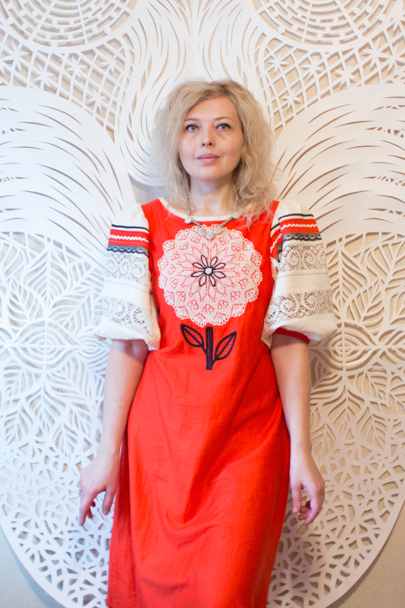 Daria channels the history of her parents and the Ukrainian heritage through her art. Traditions are a recurrent theme in a lot of aspects of Daria's life; in her family, through her art and in her daily life. Everything wears a trace from previous experiences and generations.


– I get energy and strength from the past. History is a never-ending source of inspiration, says Daria.
"I made a big postcard of 120 centimeters to 250 centimeters where two women write wishes, surrounded by flowers. It's very romantic and poetic."

The magical Vytynankas
Daria tries to create her way back to her magical days as a child, when her fantasy was her main source of inspiration.
– In my childhood I read a lot of fairy tales. I had painted windows in my room, it felt like such a miracle. Then it all disappeared when I became an adult and went to study at Lviv National Academy of Fine Arts. Living at hostels, the wonderland slowly disappeared. With the help of huge paper works, I turn myself back to that feeling I had when I was little, says Daria.


Often, her Vytynankas portray women, nature and different magical symbols. Once she gets an idea she begins by drawing a sketch on a folded paper, followed by making a pattern and cutting out different parts. Slowly a pattern grows into an entity.


– The drawing of the picture consumes most of the time spent creating the piece. It is interesting to me when you open the folded paper and see the final result – it's magical, says Daria.



Set the curiosity free

Currently, Daria is one of the central figures in an exhibition at Lviv National Gallery of Art, in her hometown Lviv. Daria's gigantic pieces of art, several meters long paper works, hang all over the Gallery. The exhibition is a joint show presenting the private collection of postal cards of Oksana Boboshko-Vanderhoven. The theme is mainly femininity, which also is present in Daria's work.

– I made a big postcard of 120 centimeters to 250 centimeters where two women write wishes, surrounded by flowers. It's very romantic and poetic, says Daria.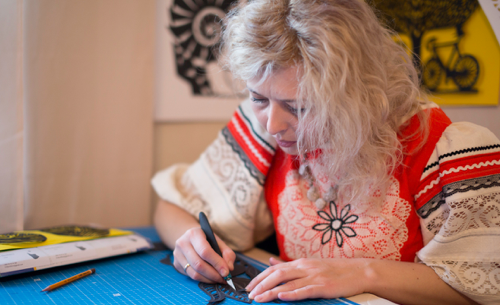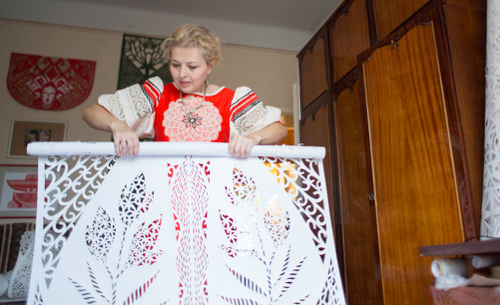 She hopes that her audience will see the world with curious eyes and openness, willing to let the magic in.


– I want to give them a way to look at the world through the prism of curiosity and knowledge. Through the magic of symbols, with the hope that the world has many colors and landscapes.


She also has done international projects, in both Germany, France, Poland and South Korea. Through her art, she represents Ukraine all over the world.


– We're a rich nation, we must preserve this property and pass it on to our children. We must renew ourselves but at the same time maintaining interest and respect for traditions, says Daria.