Felix Semper
The artist who is inspired by different subcultures
United States 22 Sep, 2018. Photos by Jacob Biba.


Felix Semper is the self-taught artist whose soul is reflected in his impressive sculptures and paintings. His art often receives strong reactions from the mixed audience who passed his astonishing statues on the street. Thousands of stacked papers are transformed into a timeless portrait of significant creators in history.
Felix Semper's mind is a never-ending source of creative ideas. To Felix, creativity became second nature and is as necessary for him as oxygen. His fascination for sculpturing developed more than five years ago and to this day, he still needs a daily outlet for his creativity. Everything started a snowy day in North Carolina, frozen water droplets became a work of art and Felix's passion for sculpting grew.
– I have this gift to see 3D in my head and clearly visualize the objects, through the sculptures, I move my mind into the physical world, says Felix.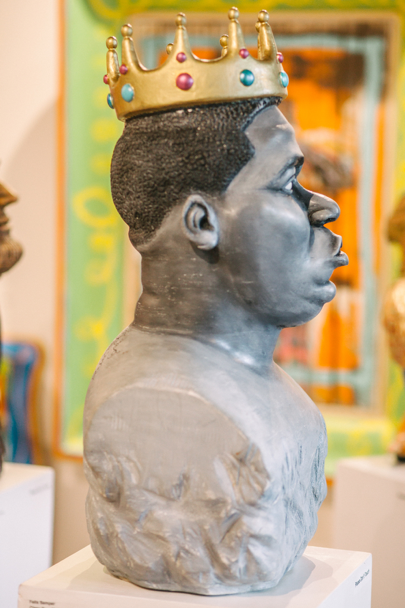 In Felix's art, there are influences of his legacy from Cuba and recurring elements from the Spanish culture that made an impression on him while growing up. He has chosen to portray Spain in dramatic brush strokes and symbolism. Cuba is often captured with vivid colors.


– My heritage from Cuba and Spain is often reflected in my art, both in sculptures and paintings. I wanted to capture Havana and recreate Cuba's raw beauty with my painting; the painting is a tribute to the Cuban culture, says Felix.
"Paper is strong, but at the same time, it can be so fragile. my sculptures represent both worlds"

The legacy of Basquiat
Felix developed a fascination for the sculpture form called stretchable paper sculptures. An art form based on thousands of paper sheets that are glued together and then carved into a statue. The sculpture grows through Felix's personal interpretation of pictures of the person or the object. Felix technique is complicated and filled with details and at the same time, Felix feels a great freedom with the expression. In his world, a misalignment is never a mistake but just a new way of dealing with it in its continued creation.


– Paper is strong, but at the same time, it can be so fragile. My sculptures represent both worlds. When the paper is compressed it can seem solid and strong but when opened each individual sheets'weakness is exposed therefore becoming strong as a whole, says Felix. Felix finds inspiration to his artwork from his surroundings. He is inspired by various subcultures in the hip hop and street art sphere. Felix tells that when rappers freestyle, it reminds him of his own creative style that allows himself to be shaped little by little. One of his first pieces is a sculpture of the graffiti artist, and his great inspiration, Basquiat.
– I love Basquiat, I have a special connection to his work of art. Basquiat was a graffiti artist and his work is found in museums all over the world. I have made a sculpture bust of him and would say that it is one of my favorite pieces because I feel a special attraction to his art, says Felix.




The orbit of art
Felix usually brings his finished works of art pieces to public areas, such as the streets of New York. He likes the idea of making his art available to the public, regardless of age, origin and class. One of his most famous works is a paper statue depicting the legendary rapper Notorious B.I.G. An artwork that took its time to create, over three months and 7000 sheets of paper later was the 65 pounds' sculpture of "Biggie" ready.

– I brought the statue of Biggie to his local neighborhood in Brooklyn where he grew up. I met several of his childhood friends followed his career and used to rap with him. They could not believe their eyes and thought it was amazing that I created the statue for him, says Felix.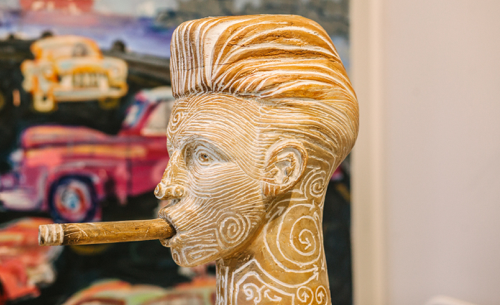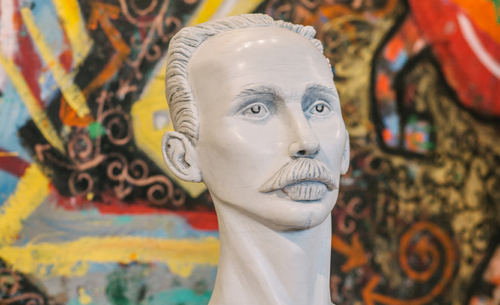 Felix street performances are parts of an artistic orbit. The circle ends when Felix has filmed his audience's reactions. He loves to combine different kind of medias and sees it all as a single large art project. Felix is just about to create a statue of the legendary rapper 2pac and recently finished an effigy of Bob Marley. He does not see his job as a work, but chooses to call his studio a "funshop".


– You just don't decide to become an artist, you are born one, you don't choose to become an artist, it chooses you, says Felix.