Joanna Walczykowska
The passionate illustrator with love for paper and animals
Poland 21 Apr, 2017. Photos by Benedikt Ziegler.


Joanna Walczykowska, from Poland, is a freelance illustrator who draws everything from dogs and cows to different types of bread, with enormous precision and a steady hand. Lately, she has had commissions for several, large Polish companies, and everyday she is able to work with what she loves – paper and ink.
When Joanna Walczykowska grew up, her mother used to put on puppet shows for her, with characters made out of paper. She cut out figures, folded tiny furniture, and made a story, something Joanna remembers very well. At that moment, Joanna's interest in crafting started, and paper became a big part of her life. Additionally, Joanna loved to draw, and seized every opportunity to draw on anything she came across.

– When I was two years old, my mom left me alone in my crib to sleep, an hour later she came back to check on me, and she discovered that I had got hold of a pencil and had drawn on the entire wall above my bed. Another time, I took her makeup and drew with it on the window, says Joanna.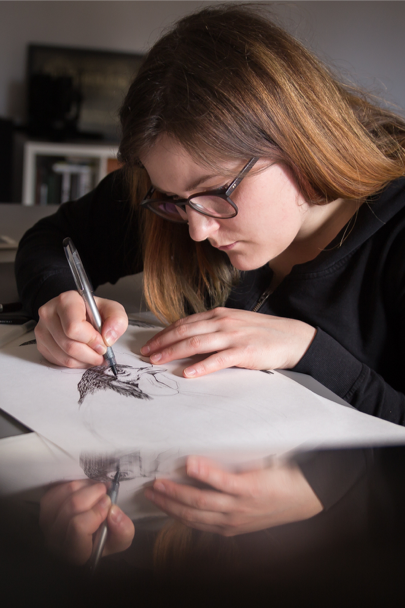 Her interest in arts and crafts grew stronger every day, and after high school, where Joanna studied a program with specialization in art, a few years of hard work followed, which eventually led to her admission to the Academy of Fine Arts in Warsaw.


– I really wanted to be an illustrator, and get the opportunity to work with my passion. I got accepted and started a five-year education in graphic design with focus on lithography, says Joanna.
"Animals are magical to me, and I've become really good at drawing them. I draw everything from cows and birds to insects and dogs"

Animalistic inspiration
Drawing is Joanna's main passion and for a long time, she has idolized the Czech artist and graphic designer Alphonse Mucha, who created many of his artworks by lithography. Lithography is a method of printing, where an image is drawn with oil, fat or wax onto a smooth surface of limestone or a metal plate, and then transferred to a blank paper sheet. Mucha's work has inspired Joanna, who always has been fascinated by his way of working with clean and precise lines, a technique she uses in her own expression.


– I don't illustrate in the same format as Mucha, his motives were huge, but I get inspiration from his work. My drawings are, however, more detailed and drawn with more precision, no brisk strokes, says Joanna.

Animals are also clearly reflected in Joanna's illustrations and a recurring theme in the commercial commissions she takes on. Ever since she was a little girl, she has loved animals and used to spend a lot of time at her grandmother's farm, where they had all sorts of animals. Joanna says she always felt a special closeness with animals, sometimes more than with people, and believes that's the reason behind her great love for them.


– Animals are magical to me, and I've become really good at drawing them. I draw everything from cows and birds to insects and dogs. It's also nice that I get more commissions from companies that want me to illustrate animals, says Joanna.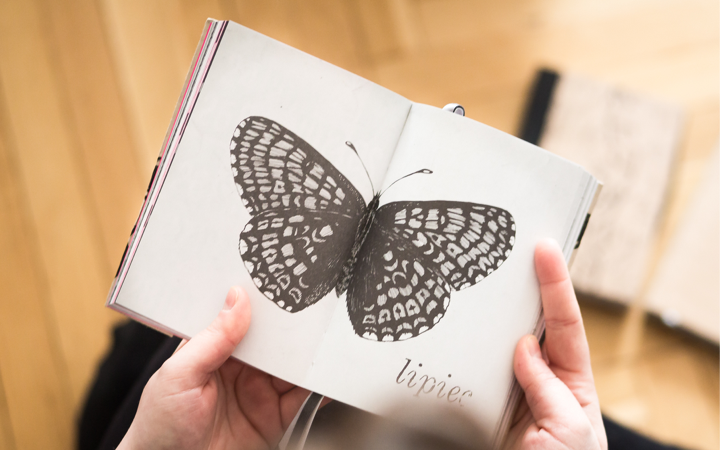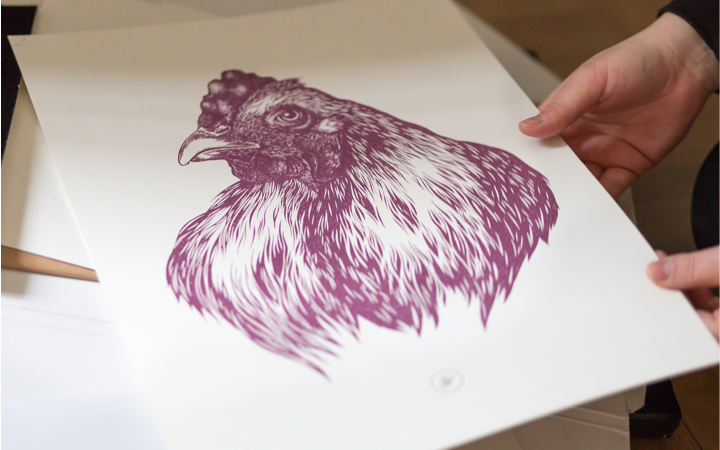 Hamburgers, bread and hotel for dogs
Since Joanna graduated from the Academy of Fine Arts in 2011, she has had several commissions for large Polish companies. For example, she illustrated a cow for the hamburger restaurant Bó Burger & Fries in Kielce, a drawing that started in the A3-format and finally became as big as two meters high. She has also drawn large quantities of bread for the bakery Piekarnia Nowakowskis' new, rustic, concept, and illustrated dogs for the dog hotel House of Mutt in Thetford, a commission she got by the London based agency John Henry. Joanna says that the hardest part about working as a freelance illustrator is to be brave enough to throw yourself out there, and be able to stand out in a tough environment with high competition.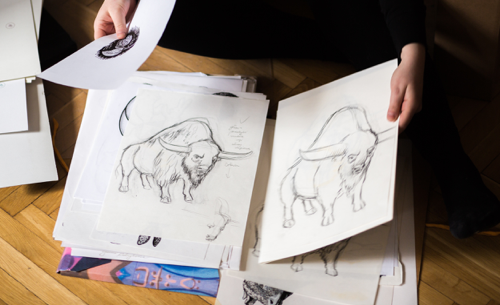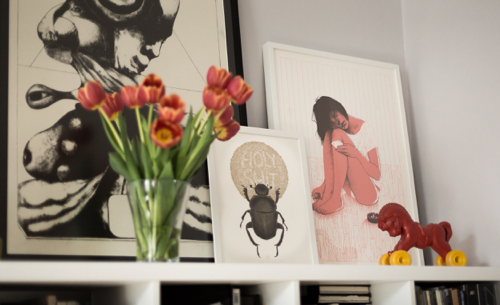 – There are so many talented illustrators who are doing an amazing job, drawing wonderfully, but they don't dare to show it to people. If you want to reach your goals and really get the chance to work with your passion, you have to have some courage. No one will find you in your chamber at home, says Joanna.

When paper entered the picture Joanna tries to draw as much as possible and has always had a great love for paper. The choice of paper is extremely important when she illustrates, it can, for example, not be too thin, too translucent, or too white. Recently, at a fair in Berlin, Joanna also discovered that she likes to experiment with paper.


– I exhibited my illustrations at the Berlin Graphic Days, where we spent eleven hours smiling at potential customers. Eventually, I got a bit bored and started to cut tiny animals out of paper, which I placed around my table. A lady passed by and became fascinated by my work and wanted to buy a really tiny sheep for two euros, says Joanna.


Now, Joanna wants to focus more on working with paper in different ways, and she longs to make a children's book. Her hope is to get support from the Ministry of Culture in Warsaw, which each year donates money to artists for different projects.


– Imagine being able to work a full year with something that has a deeper meaning. My dream is to write and illustrate a children's book with focus on faith, in a non-religious kind of way. Children need guidance in life, where faith in oneself is incredibly important and something that I'd like to illustrate, says Joanna.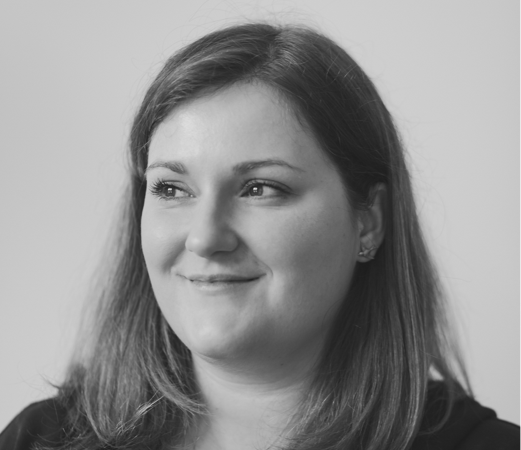 FACTS
Name: Joanna Walczykowska
Title: Illustrator
Favorite material: Paper; thick, not too white, smooth and absorbent.
Favorite tool: Soft pencil B4, black marker pen, ink and thin brushes.
Web: joannawalczykowska.com