Cecilia Levy
When forgotten books become modern paper art
Sweden 31 Oct, 2019. Photos by Daniel Ekbladh.
She only uses paper from books made before the 1960s. The more stains and patina the better. Meet Cecilia Levy, the former graphic designer and bookbinder from Sweden, who followed her passion for a more tactile way of working and started making extraordinary art out of old books.
The technique may seem very simple – the only thing you need is paper from old books and glue made out of a very clean flour. But making the art Cecilia Levy is doing is way more complex than traditional papier mâché. Everything is made with careful consideration where the paper, the typography and the colors needs to be put together with perfection. Cecilia Levy lives in Sigtuna, north of Stockholm, together with her husband – the illustrator Mattias Adolfsson (who was portrayed in Paper Passion 2016). They met when they both studied graphic design at the School of Design and Crafts (HDK) in Gothenburg, back in the early '90s, and have since then gone on a creative journey together.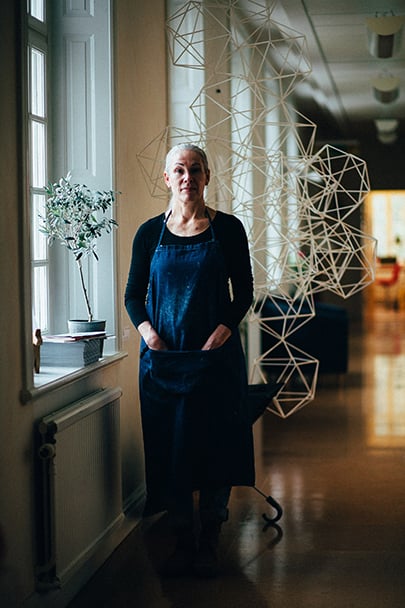 Cecilia has always had an interest in drawing, and thought that graphic design would canalize her creative side. However, during this time, the computers entered people's lives and everything became digital. Cecilia felt that the romantic dream she had of creating with her hands slowly faded away.


– That was not what I was visualizing when I first started the education, says Cecilia Levy.
"Maybe my paperwork stood out from the crowd, and was something new."

Bookbinding evolved into paper art
After a couple of years of studying and lecturing at HDK and working with graphic design as a freelancer, Cecilia stumbled upon a course in bookbinding. The course was the only one in Scandinavia and was held at Leksands Folkhögskola. At the course she met Monica Langwe (portrayed in Paper Passion 2018), with whom she made a couple of binding projects with. Cecilia always felt that she wanted to work in a more tactile way, and the bookbinding technique opened up a lot of possibilities. When Cecilia and her family moved to Sigtuna back in 2007, she joined Kaleido Konsthantverk, an arts and crafts cooperative in Uppsala and primarily focused on handmade notebooks, boxes and art cards. It was when Kaleido received a late cancellation for a planned exhibition in their gallery, that Cecilia saw her chance of showing her work in a bigger context. However, she felt that she didn't want to show handmade notebooks. She had nine months to prepare something new to the table.


– I can't exactly describe how and when it happened, but that exhibition made me start experimenting with book papers and paste. Eventually, I realized that I had something going on. It resulted in a series of bowls and cups, and the exhibition got so much positive feedback. Maybe my paperwork stood out from the crowd, and was something new, says Cecilia Levy.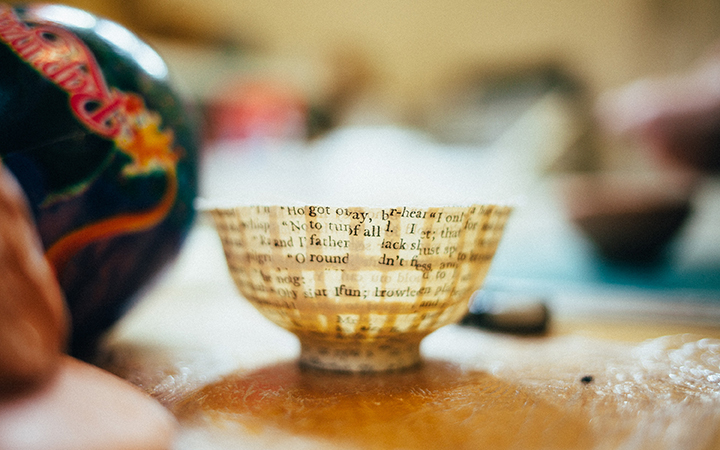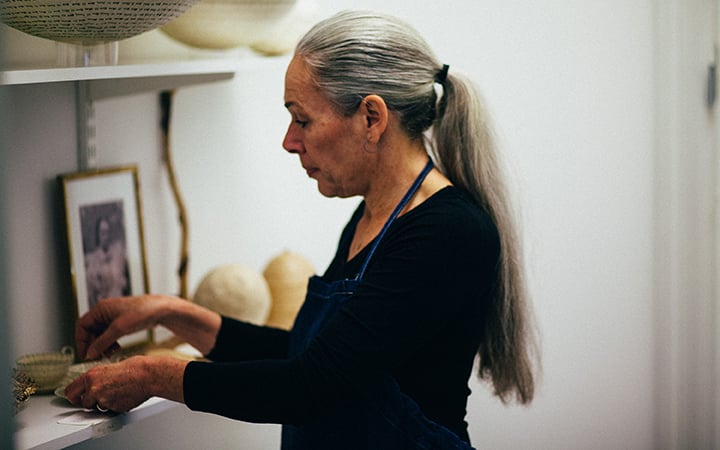 Art for a good cause
That first exhibition became an eye-opener for Cecilia. She experimented more and became increasingly better. Eventually, she got attention in a well-known coffee table book called the New Artisans, in 2012, and after another exhibition, a curator from Nationalmuseum, Sweden's museum of art and design, bought two art pieces for an exhibition called SlowArt. Since then, Cecilia's art is well recognized and people from all over the world want to see it. Cecilia thinks it's because of the paper focus – the fragile and thin paper where the history stays conserved. Her artwork gave her the opportunity to make a permanent installation for the New Karolinska University Hospital, a very prestigious commission.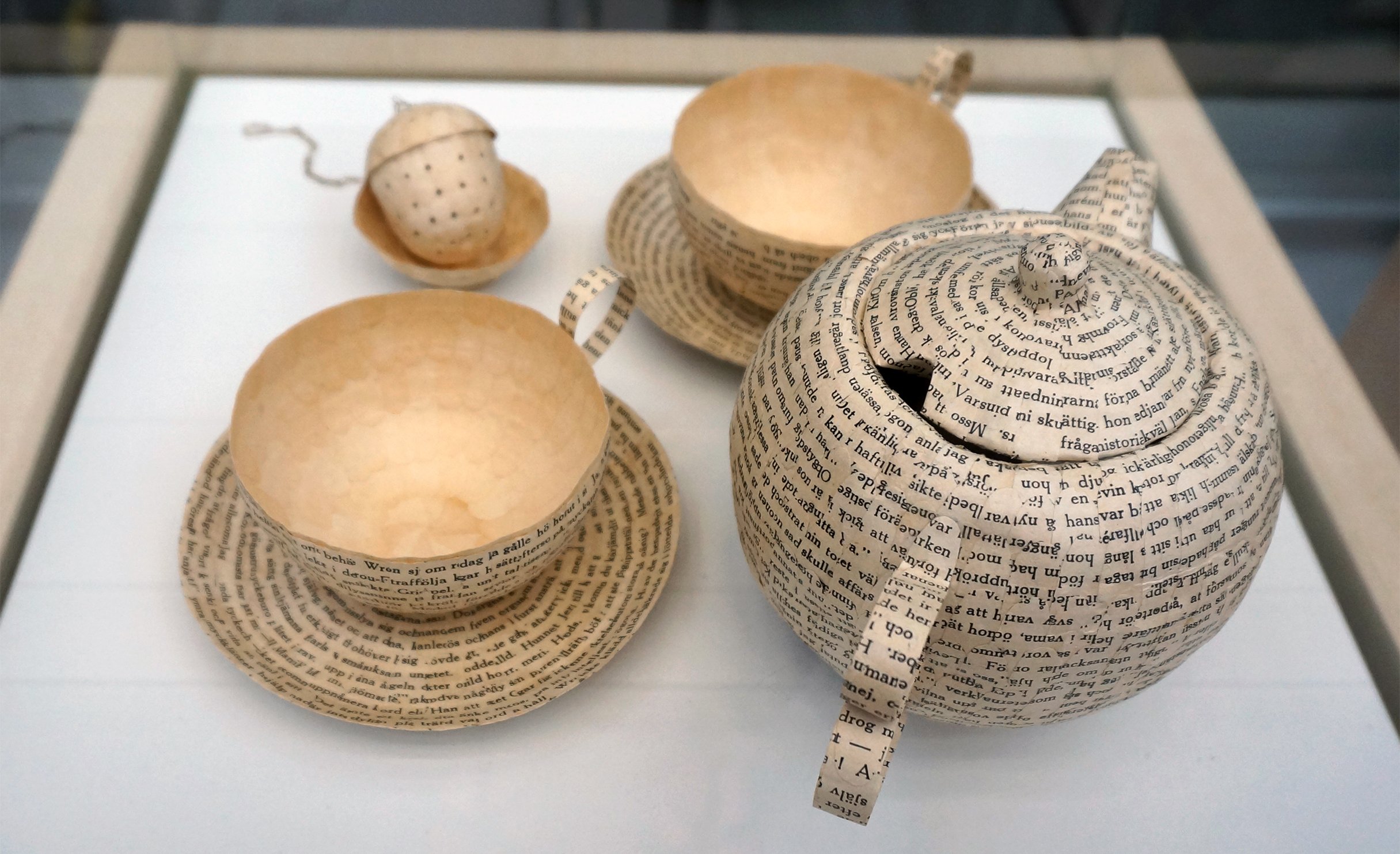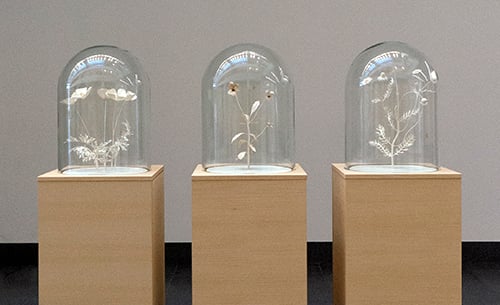 – This was huge for me. I worked on that for about three years and now it's finally there. It feels good to be able to show my art for people in a hospital environment, where the art can provide positive feelings, even if just for a minute. It gives the art meaning and I'm very happy to be a part of that, Cecilia Levy concludes.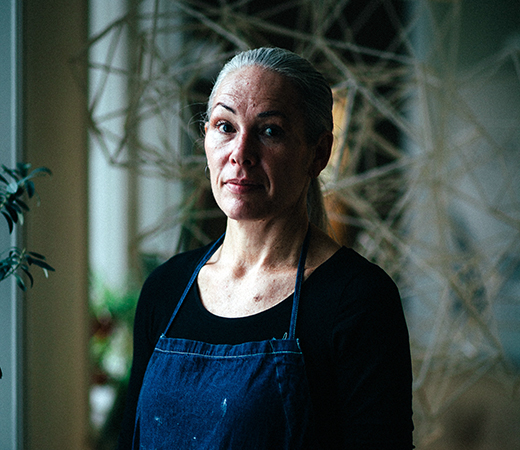 FACTS
Name: Cecilia Levy
Title: Paper Artist
Favorite material: Book paper
Favorite tool: Tweezer
Web: cecilialevy.com