Ioana Stoian & Eric Gjerde
A match made in paper
United States 4 Jul, 2019. Photos by Jonathan Pavlica.
If it hadn't been for paper Ioana Stoian and Eric Gjerde may never have met. The two artists complement each other in their work – even though they have completely different approaches. Eric has an eye for structured and complex paper engineering while Ioana makes her own paper, with a passion for colors.
Ioana's paper journey began in 2006 when she got lost in the city of Kyoto, Japan whilst visiting a family member. Trained as a decorative painter, Ioana is a creative person who follows her intuition and embraces serendipity. This fundamental nature of hers drew her to a small poster with an image of an origami crane and a large arrow taped to a lamppost. She followed the arrow and found another poster, and another and yet another until she found the destination: a small studio with a large glass door tucked into an alleyway. She knocked on the door and an elderly Japanese man opened, behind him thousands of origami cranes filled the room. Hanging from the ceiling and attached to the walls were hundreds upon hundreds of intricately folded, colorful cranes and in the corner of the room, sat a very old lady meticulously folding away.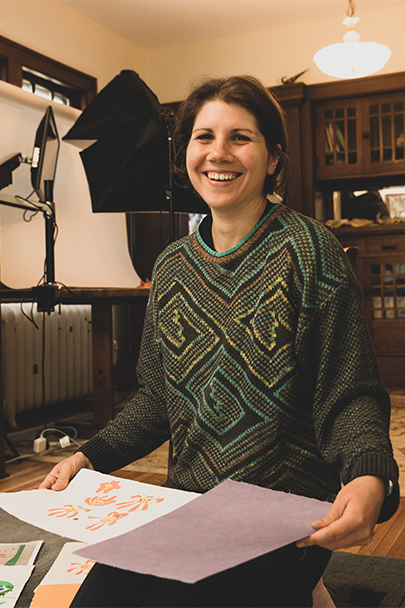 Even though the man couldn't speak a word of English, and Ioana couldn't speak Japanese, he understood that she was interested in knowing more about what was going on in there.


– The room was completely filled with cranes! The minute I saw what they were doing I wanted to try my own hands at it. This was my first introduction to paper folding, and I spent hours there, being taught by this master of origami. It was amazing! When I returned to England I was eager to learn more about this artform and reached out to the British Origami Society, says Ioana.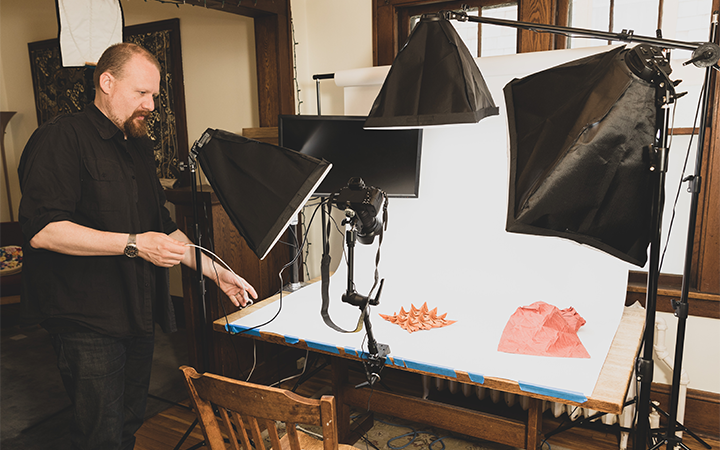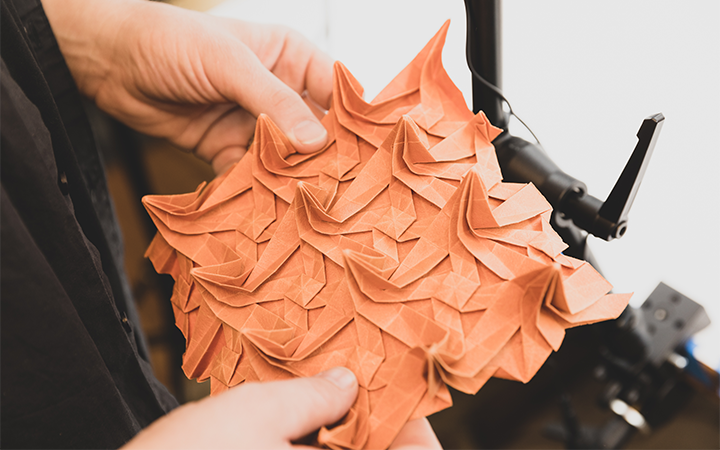 A material that connects

Eric Gjerde has worked with computers and technology his whole life. One day he realized that he wanted to do more with his hands and use other parts of his mind, which led him to return to origami, something he had loved as a child. He turned out to be quite good at it and started to do more and more complex folds, based on repetitive patterns called tessellations. Back in 2005, Eric was one of very few making this kind of origami, so he learned along the way and developed his skills. Once he started sharing his discoveries on the internet – exciting things started to happen.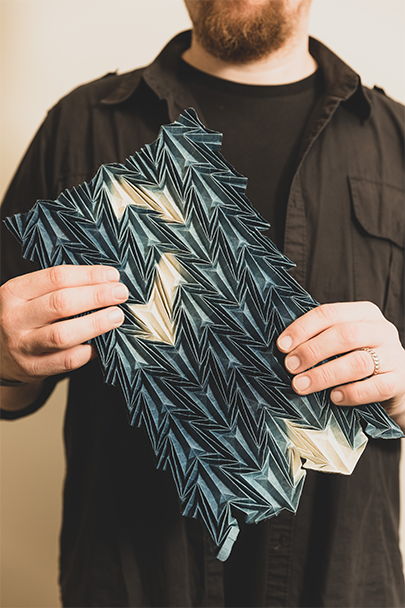 – There were so many people out there who wanted to try it out and learn more about the process. So, I created a group on Flickr, in the early days of social media, to make a community for like-minded people. Later, this led to an offer from a publishing house to make a book about the technique, says Eric

The book called Origami Tessellations: Awe-Inspiring Geometric Designs, opened up a lot of new doors for Eric. The book especially caught the eyes of a decorative painter in England.
"Because I'm dealing with raw fibers I can decide which qualities I want the paper to have."


– I found Eric's book online and tried to fold from his instructions, but I was a novice and really didn't understand how a crease pattern worked, it was so hard, but I was determined! The British Origami Society encouraged me to attend an origami convention in Italy, where Eric would be teaching. So I took the train and went to meet him, says Ioana.
Colorful papermaking
Ioana and Eric have now been married for six years, and they live in Minneapolis – a dream city for paper lovers. The place is known for the paper company Cave Papers, founded by Amanda Degener, who Eric rented a room from when Ioana and he first met. During a multiple month internship at Cave Paper, Ioana was introduced to the world of handmade paper and fell in love with the process. Her passion and thirst for knowledge brought her back to Japan a few years later, where a close friend, Tomoko Fuse, one of Japan's most famous origami folders, organized an internship at Kadoide Washi in Niigata Prefecture. Ioana spent a month learning how to make the delicate Japanese Washi paper. She really loves the process of papermaking and produces every piece of paper she uses herself.

– Because I'm dealing with raw fibers I can decide which qualities I want the paper to have. I can control the thickness as well as the texture. If you simply purchase a sheet of paper you can fold it, manipulate it, but for me, being part of the process is an integral part of my art, says Ioana.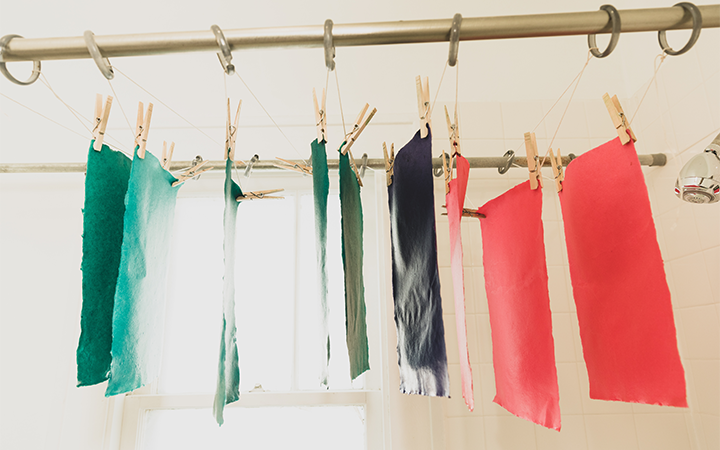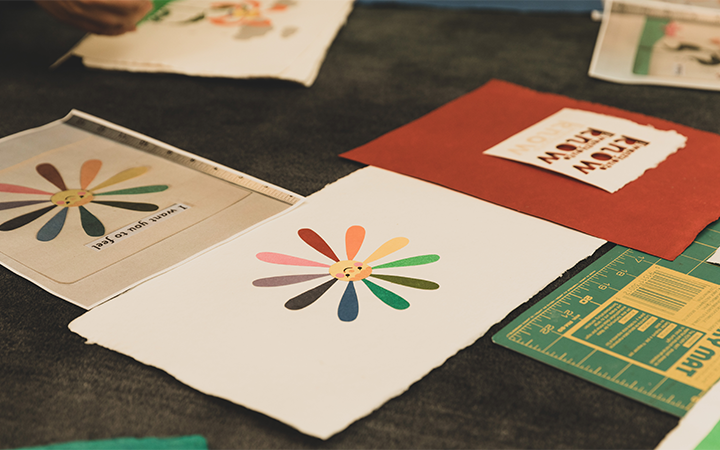 Since Ioana is a painter she's very interested in colors, and always dyes her own paper to suit her needs. Eric, on the other hand, is colorblind and mostly concentrates on the form and structure of his art pieces. The couple compliment each other but both individuals have completely different approaches when it comes to art. Eric is into reverse-engineering, and especially gets inspiration from the Bauhaus-era, and Ioana has a passion for colors and the tactile feeling of paper. Both of them have published a couple of origami books, Ioana´s Origami for All and Origami Garden, and Eric´s Origami Tessellations: Awe-Inspiring Geometric Designs. In November, Ioana is releasing the children's book Always Be You, and Eric is working on another book about advanced origami tessellations.


– It's been 10 years since I released my first book. I now have the opportunity to guide people toward more esthetic choices when it comes to folding tessellations. There isn't necessarily a purpose for all of this, but people can get enjoyment by doing something with their hands. In this modern world, we really don't do things with our hands anymore. It gives people a sense of satisfaction to complete something tangible, says Eric.