Josh Alan
Old history books spring to life through unique collage art
United States 15 Mar, 2019. Photos by Trish Badger and Josh Alan.


By carving out paper from old books and putting it together into different collages, the artist Josh Alan can infuse the present with images from the past. He gets inspiration from photography and is driven by a passion to tell stories through his art.
Josh Alan, the collage artist from Texas, has hundreds of history books at home in his studio. Most of them are completely destroyed inside, because he has carved out so many of the pages to create his artworks. He believes that his passion for old things, world history and events that have already happened, comes from his antique-collecting parents. Seeking out old things, all of which have a history - a past life - has always fascinated him. Now, Josh works as a collage artist and photography teacher and has found a niche in expressing his version of current events using old pictures.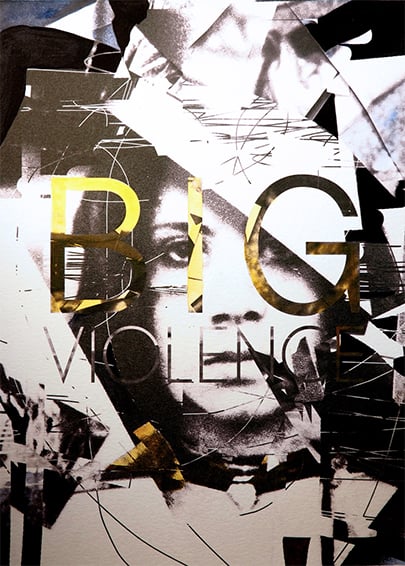 – I simply use these old history books and put the pictures in a new context. During the 2016 election, for example, when it was an extremely turbulent time in the US, I analyzed a headline every day and made a collage out of it. It helped me try to understand the larger historical contexts in which this was happening. I'm always trying to understand what led us to this point and where does it lead, says Josh.
"I'm breaking down more than I'm building."

Hard market for collage art
Using the expression 'collage' is not in itself unique. Many artists use it today. It is a modern way of making art, and a device to advance a story using simple means. Josh Alan believes, however, that his way of doing it stands out. The collage itself is not the end product. Instead, he explores all the different possibilities of taking the collage to new levels, after it is initially created.


– The final piece can either be a photograph, a printed work or a painting. But I struggle every day with what my end product really is. My process is also a little bit different, because I work directly within books as opposed to piecing separate images together. I'm breaking down more than I'm building. My collages always involve of pictures of people, taken from their original context to form something new and invoke some kind of narrative, says Josh.




Working as a collage artist today is not easy. This is partly because of the crowded market, but also because most galleries do not exhibit photos or printed works. They usually search for sculptures or paintings - disciplines that Josh hasn't chosen to focus on.


– I have carved out a difficult pathway for myself. It's hard to find a way in. The galleries main concern is paying rent, so they must have work that they can sell for a high price. They simply can't sell collages for as much as a sculpture or painting. I probably have the skills needed to be able to do that kind of art, but then it would feel like more of a day-job, rather than my passion, says Josh.



Collage and experimental art
The most recent project Josh has been involved in is for the Houston-based production company Dinolion and the interactive theater Lionshare. Immersive theater is becoming increasingly popular in the cultural scene, where the audience are not only spectators but also participants in the various scenes. Josh has been responsible for creating logos and graphic design for the project.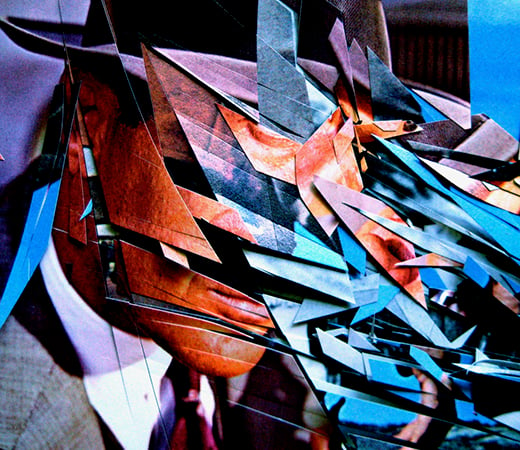 – I really don't have very much experience in anything theater-related. But I love everything Dinolion does, so I said yes straight away, without even knowing what I was supposed to do! says Josh.
Now, Josh wants to use more of his collage art in similar, performance-based, projects. For example, he is currently working on a collage-based choreography for a dance piece. He's looking out for certain books from the 1970s, with step-by-step illustrations for fitness exercises.
– I would love to work with experienced dancers because I think these images would make for some interesting choreography. Since I have no experience with ballet or dance, it's a challenge. But I think it could be extraordinary, so I'm hoping it will become a reality, says Josh.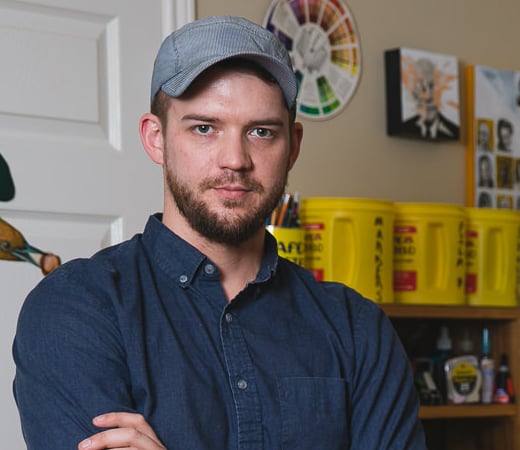 FACTS
Name: Josh Alan
Title: Collage artist
Favorite material: Old photo collections
Favorite tool: Camera – Olympus 10, pen and a rotary blade
Web: joshalanadm.com