Tereza Booth
When thin black lines can take you on adventures
Czech Republic 9 May, 2019. Photos by Jan Zima.


The Czech brand Pinwheels was originally made for fashion. However, the founder Tereza Booth realized books were her life and she wanted to follow her dreams. Today, the illustrator and bookstore manager from Prague creates advanced stories using simple techniques.
Tereza Booth creates magic for first-time readers. She specializes in children's books, with the main goal of increasing young people's interest in reading. In addition to her work as a bookstore manager for the National Gallery in Prague, she is an illustrator and runs workshops on children's literature in schools and prepares literary programs for children. Her style is extraordinary: The thin, black lines she uses are very significant for Tereza, and her works of art are both complex and simple at the same time.

– This style is just who I am. I like the simplicity and the fact that I can make a lot with it. Sometimes I also make "leporelos" - folded books, where the story can come to life in a different way. I love that I can combine the two biggest interests in my life – illustration and children's books, says Tereza.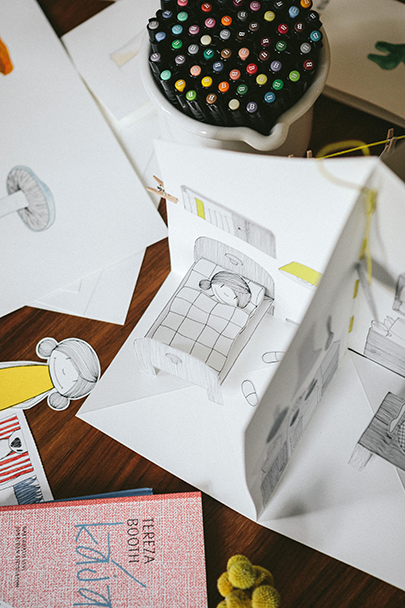 "I was really interested in fashion, but always felt something was missing."

From fashion to illustration
Back in 2004, Tereza moved to England to seek new adventures. She didn't know exactly what she was going to do, but started out working in catering. Later, her work as a shop assistant at H&M in Covent Garden sparked her interest for fashion. She decided to study something creative and went to Central St. Martin's College where she chose illustration as her main subject. Once back in Prague, she started Pinwheels – the fashion brand.
– I was really interested in fashion, but always felt something was missing. Since books are the most important things in my life, I decided to switch focus. I changed my brand from fashion to publishing. The great success for Pinwheels came when we published the book "The Long Journey", by the world-renowned children's author Petr Horáček. It was his first book written in the Czech language, says Tereza.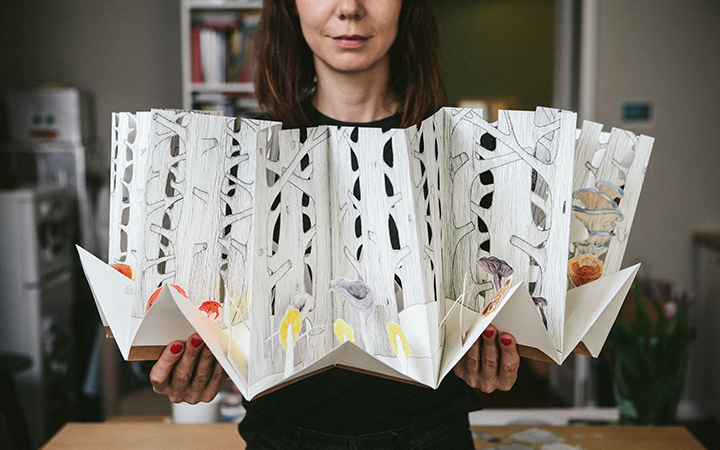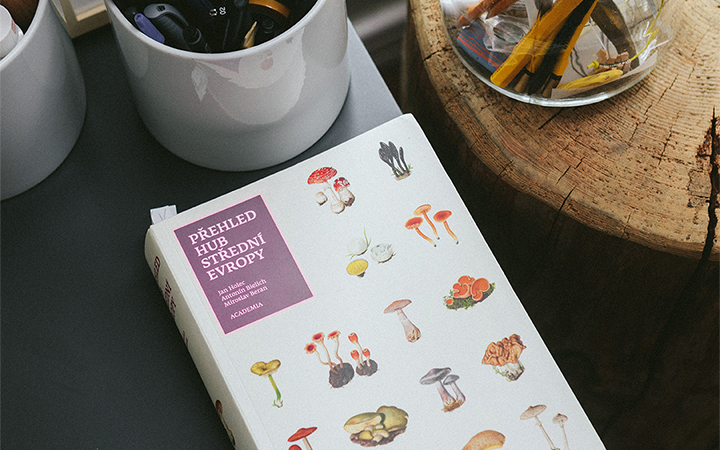 Mushrooms and talking dogs
Ever since Tereza was a child she has enjoyed being outdoors and experiencing nature. She remembers the summers with her grandparents in a caravan, where she spent hours upon hours outside playing and creating with anything she could find that nature had to offer. Those days have stayed with her, and her favorite thing to illustrate is now mushrooms.


– I love picking mushrooms and I love looking in mushroom atlases. A lot of my recent illustrations contains mushrooms in different shapes and colors – I just can't get enough of them! says Tereza.

Tereza has illustrated a couple of children's books herself. The ones about the girl dog Kája are very popular in the Czech Republic. One of Tereza's dreams is to work on some kind of school project, like a "book start" for first-time readers. Seeing more and more children grow up in front of a screen has made her even more eager to get them reading.
– I wish more children actively wanted to read, so helping them find the right book is really important. In most schools today you have to start learning to read at a certain age, but every child is an individual and it takes time to develop an interest. I want to guide children towards the amazing world of books, and show them there are a lot of adventures out there waiting for them, says Tereza.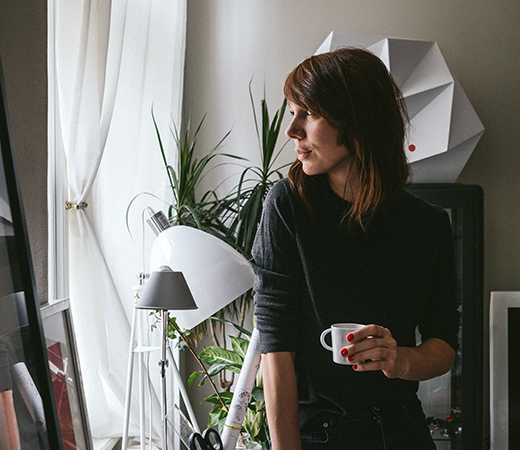 FACTS
Name: Tereza Booth
Title: Illustrator and founder of Pinwheels
Favorite material: Paper; Koh-i-noor Pop Aquarell 250gsm, Munken
Favorite tool: Staedtler pigment liner 0,05/0,1/0,2
Web: instagram.com/pinwheels.smazenice