Eric Standley
The cutting-edge art of Eric Standley
United States 8 April, 2020. Photos by Peter Means.


By stacking hundreds of layers of laser-cut paper on top of each other, the American artist Eric Standley creates extraordinarily complex artworks that have left people awestruck all around the world. Apart from appreciating paper as a material, he feels a kinship with it as a medium.
When seeing Eric Standley's artworks for the first time, it's hard to believe they're made out of paper. The exquisite detail and fine cuts seem impossible to achieve in such a fragile material. On average, each piece consists of over a hundred layers of paper intricately cut by a CNC laser. Some of them take months, others years, to complete. Before cutting, each artwork gets thoroughly planned in Eric's sketchbook and is meticulously drawn in a vector-based software program. The work process requires him to imagine how each layer will look in the context of others.

– I have always had the natural ability to pre-visualise objects, and now I can imagine how up to 40 layers of paper might look in space – what they will reveal and conceal. But it also has to do with discipline, when I started out my mind only processed around three layers at a time.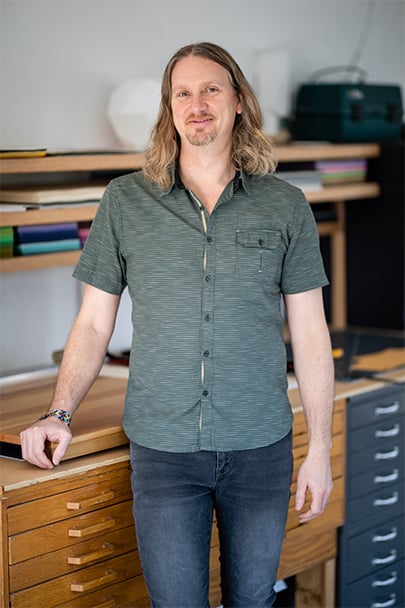 "For me, art is a calling."


Growing up in a quiet fishing village in Ipswich, Massachusetts on the east coast of America, Eric's talent for art was noticed at an early age. When he was six, he enrolled in the Notre Dame Extension School for gifted young artists and spent the following years immersed in classical art education before becoming a painting major at Massachusetts College of Art and Design in Boston. Even though he already had a relatively long artistic career, he still hadn't figured out his unique expression.


– For me, art is a calling. When I was painting, I wasn't sure what my voice was going to be, but I felt that I should just carry on and consider myself to be in training until something really hits me.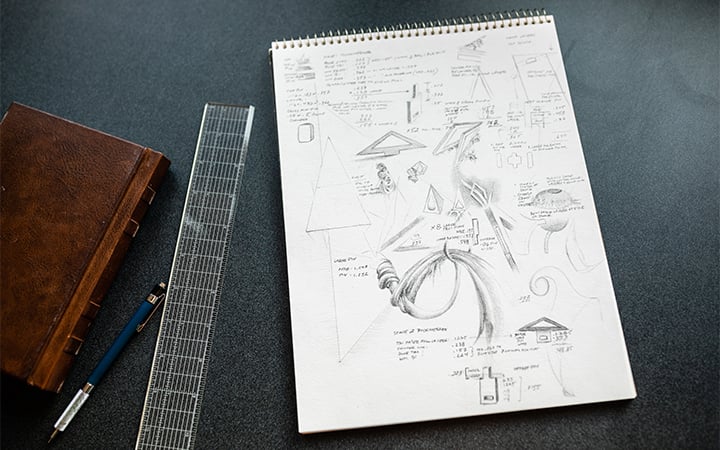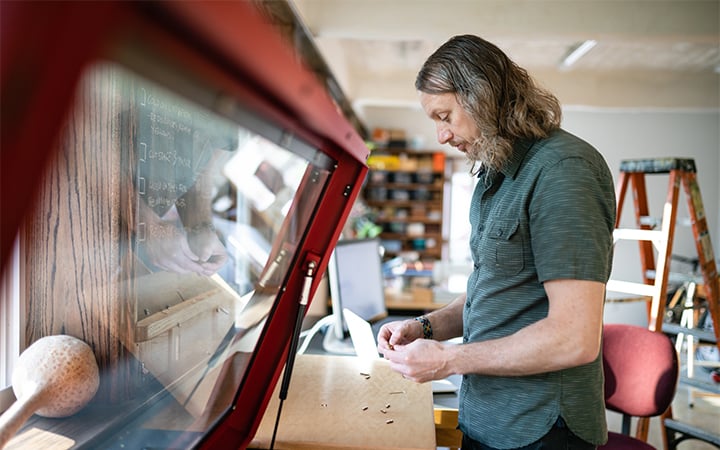 From banality to extreme complexity
In 2005 something really hit him. Eric had begun teaching art at Virginia Tech, where he still works today, after receiving his M.F.A from Savannah College of Art and Design the year before. The school had a state of art laser CNC laser and Eric knew how to use it after working with one as a graphic designer a decade earlier. He therefore became the steward of the machine and started experimenting with it. Not much later, he was working on a sarcastic project that involved cutting out the nutrition facts from cereal boxes in the shape of religious buildings as a way of "elevating the banal". Since Eric could only eat so much cereal each week, he used regular paper to practise his cutting technique.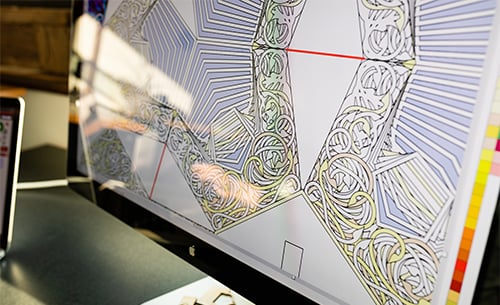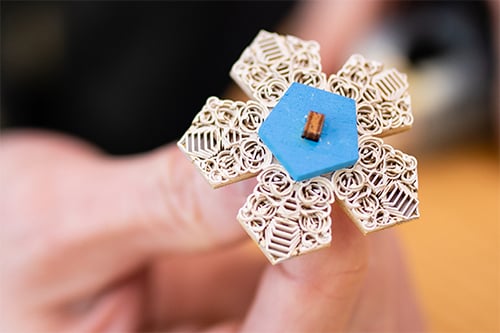 One day, as he was in a hurry to leave the lab, he stacked up some of the practice papers in a pile. There might only have been seven layers of paper, but the complex pattern that they formed together made Eric stop in his steps.
– It was captivating. I didn't know what it was at the time, but I realised that it was something big and important right there. But it was a different way of thinking, and it took me about two years to sort out before I made my first pieces.
"For me, a story immediately takes the shape of a distinct geometry and colours."

His earliest work was heavily influenced by famous gothic and Islamic architectural ornamentation, in the same vein as his project with cereal boxes. Some of them even copies, like the South Rose window of the Notre Dame Cathedral in Paris. It didn't take long before his works got noticed and he started to receive invitations to exhibitions from all over the world. One of the more memorable ones was when he got to show some of his pieces at the Islamic Arts festival in the United Arab Emirates and received praise from the emir. The initial success gave him confidence, and he soon started to make his own compositional decisions that weren't based on pre-existing motifs. Instead, he bases his artworks on stories he reads or hear, often containing some kind of paradox.


– I have the ability to visualise metaphors for everything. I don't know if it's because I'm dyslexic, but for me, a story immediately takes the shape of a distinct geometry and colours. It's like they already exist in that form, and my job is to carefully uncover it for the world to see. Paradoxes stand out to me in particular, since they have something to do with the infinite and that's what I try to relay in my work.



Bonding with paper
Since he started working with CNC lasers, Eric has established a deeper relationship and appreciation for paper. In order for the final artwork to be structurally sound, the paper must have a certain fibre structure and thickness. This is especially true when cutting small hairs of paper over a large area. Apart from appreciating paper as a material, he feels a kinship with it as a medium.
– Paper has been a humble vehicle for information throughout a big part of humanity's history. It has served as a space for information for thousands of years. I kind of feel the same way as an artist, I'm a vessel through which these artworks come into existence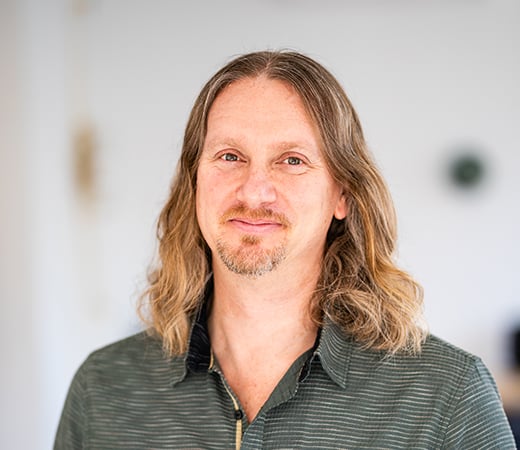 FACTS
Name: Eric Standley
Title: Artist
Favorite material: Paper
Favorite tool: My mind, including the gift of dyslexia and a CNC laser.