Paola Bazz
Unfolding stories – the changing faces of Paola Bazz
United Kingdom 5 Mar, 2020. Photos by Radka Dolinska.


During the past decade, the Manchester-based artist Paola Bazz has gained recognition for her exploration of identity by using recycled paper to make thought-provoking 3D collages of fragmented faces.
At first glance, some might only see a myriad of folded paper attached to a big board in a seemingly random order. Looking closer, a pixelated face emerges, and after a few moments, one notices how the mosaic of folded paper, so-called concertinas, making up the face and background are riddled with words and images, giving a deeper meaning to the portrait.
– I want the viewer to engage with matters beyond what's immediately visible. Each of concertinas gives an idea of a story, and then all together, they create a bigger story. It's like our identity, we all have different stories and experiences, and all of them together makes us into who we are, Paola says.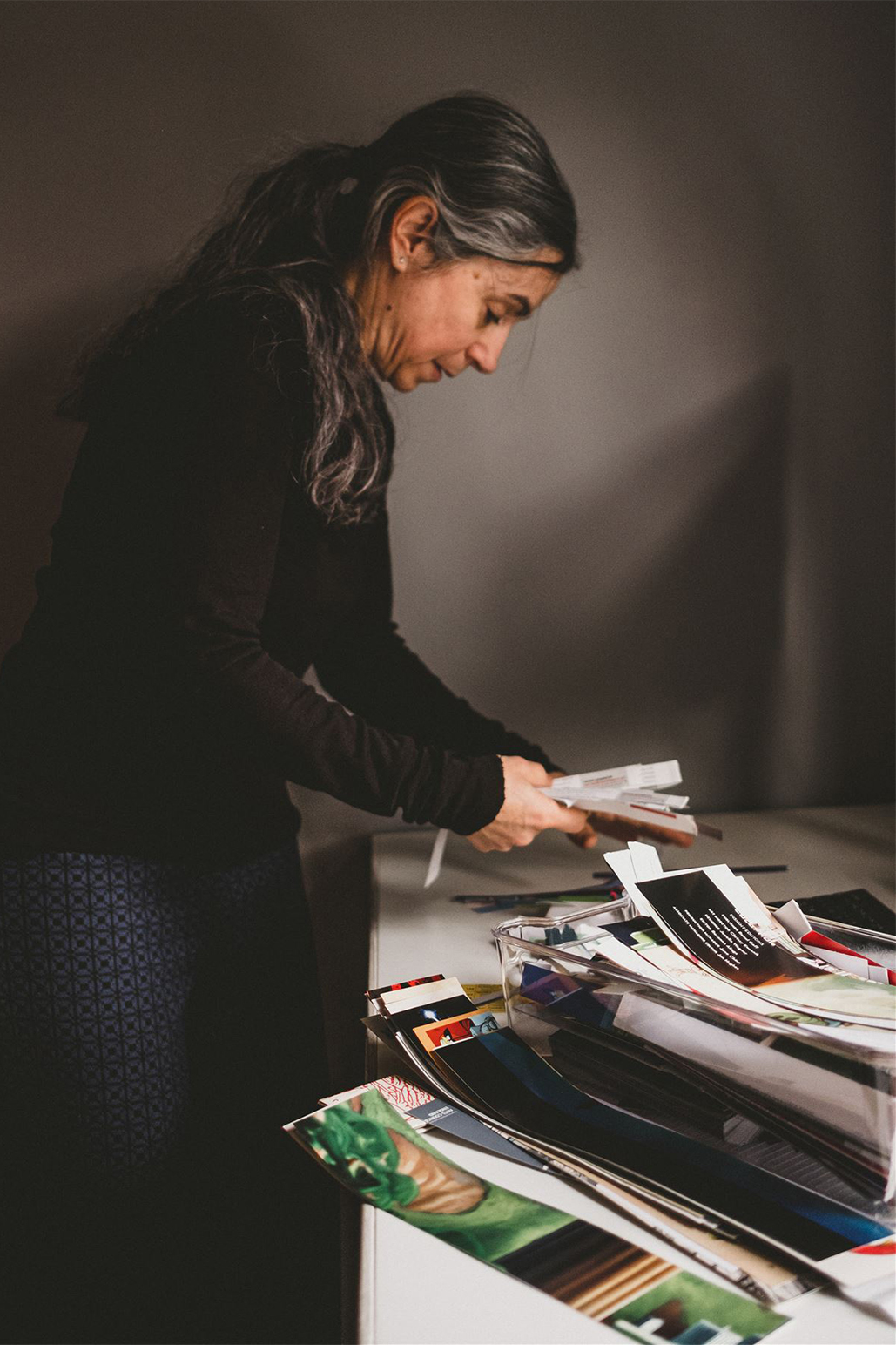 "Our identities are constantly constructed and deconstructed depending on what situation we are in."


When creating an artwork, she approaches the task as the trained architect she is, carefully planning every step of her work process. After finding a photo of a face, often a stranger since she prefers to create her art around the facial expression and not become distracted by her prior knowledge of the person, she uses Photoshop to pixelate it. She then goes through her stacks of old magazines to find the right colours to structure the face, before adding words or photographs to further emphasise the feeling the face gives her. The quality of the paper is essential. Since the concertinas are protruding from the board, they must sturdy enough to stay resilient over time and not get flimsy. By making the collages in 3D the portrait change as the viewer shifts perspective.
– I use this technique to show how our identities change in every moment of the day as well as with the passing of time. Our identities are constantly constructed and deconstructed depending on what situation we are in. By making the collages in 3D, it gives a sense of a fleeting identity, Paola says.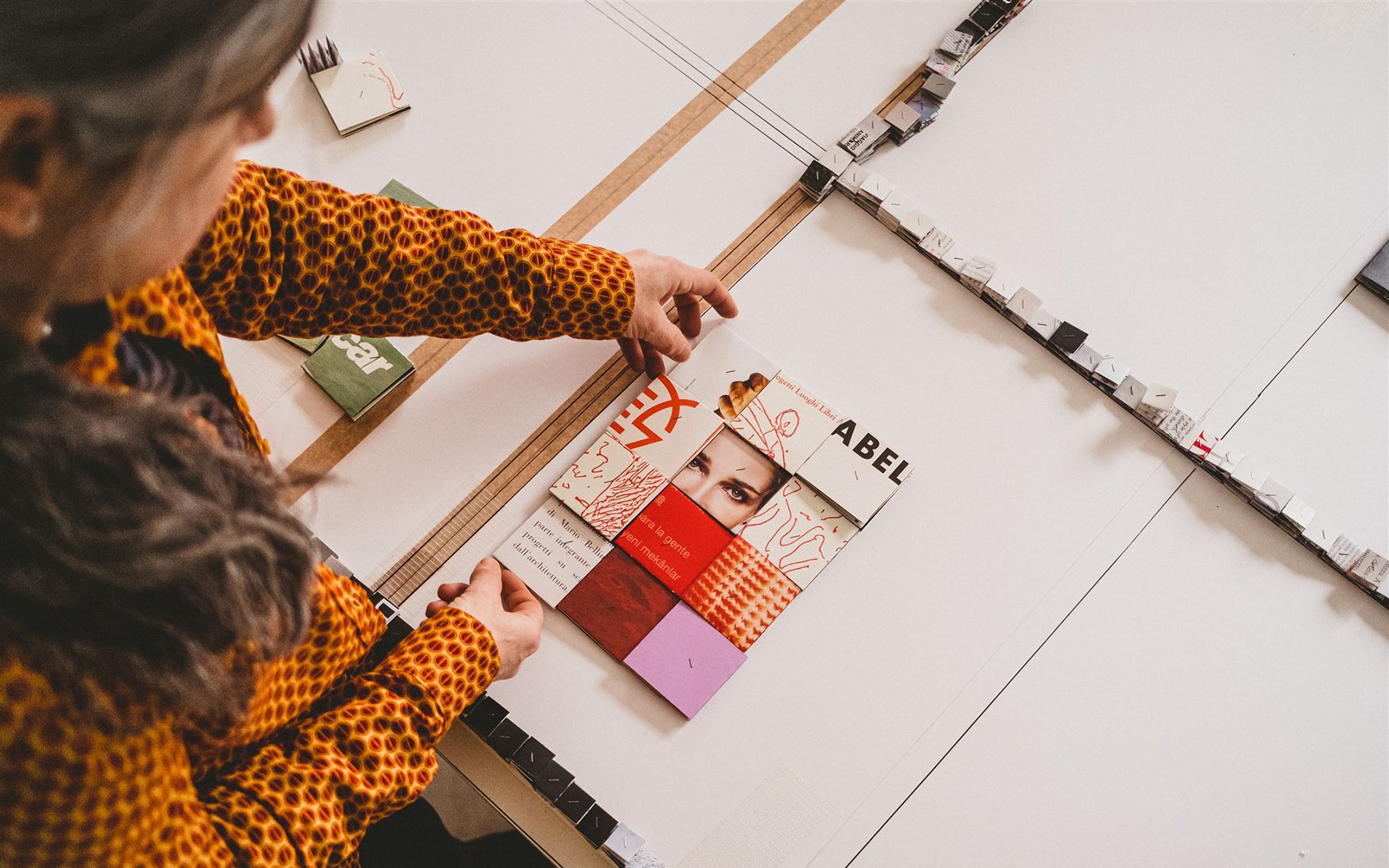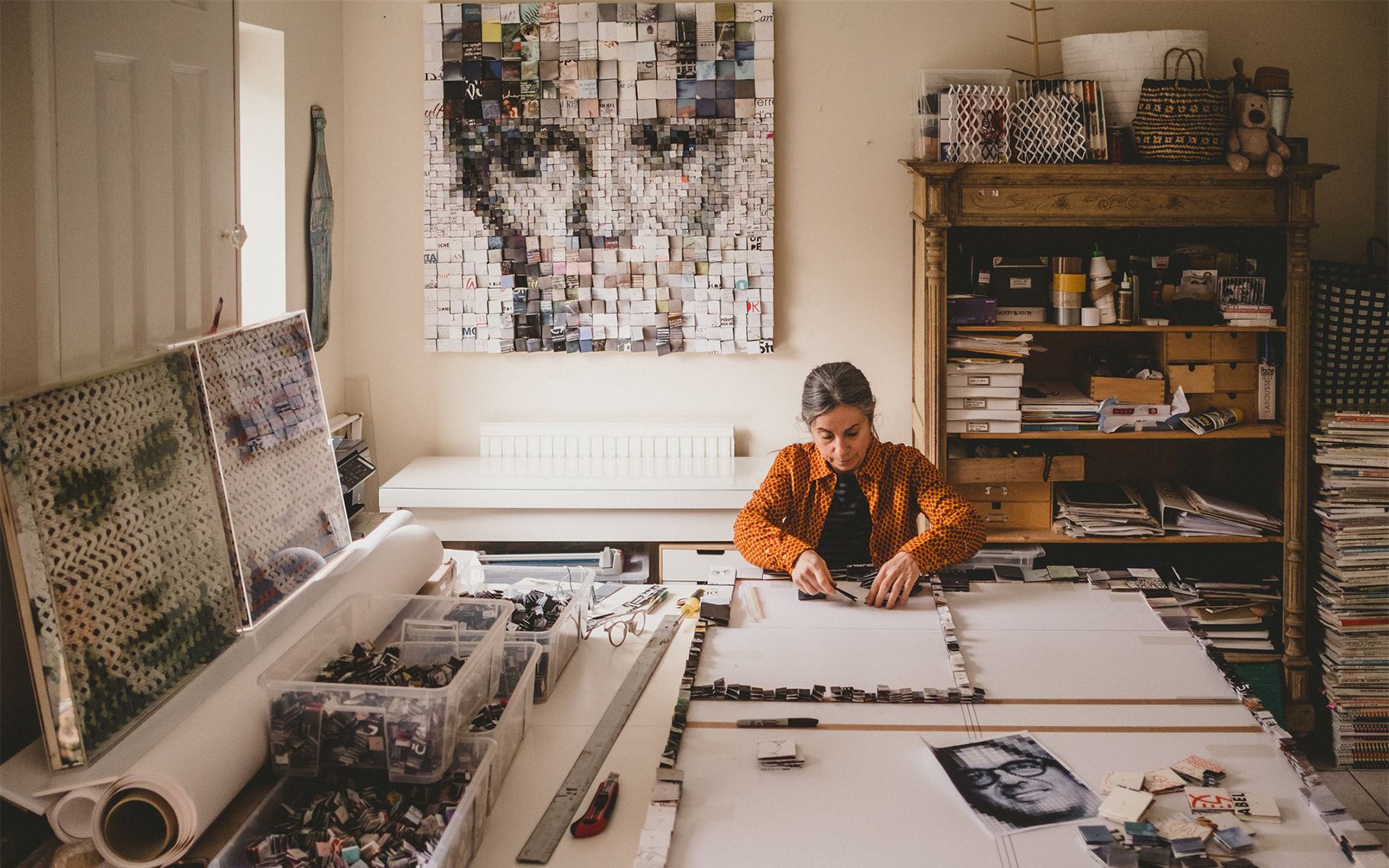 From dolls to art
She first began creating her collages using recovered paper in 2008, but in many ways, it started almost 40 years earlier. Originally from the town Padua in the northeast of Italy, Paola grew up in the '70s as an only child in a family she describes as "peculiar". Her parents had come of age during the scarcity of the second world war with an autocratic leader promoting self-sustainability.

– Everything was precious in their minds, and nothing would be thrown away without thinking very carefully about it. Both of my parents were very good with their hands and would repair anything that was broken, Paola says.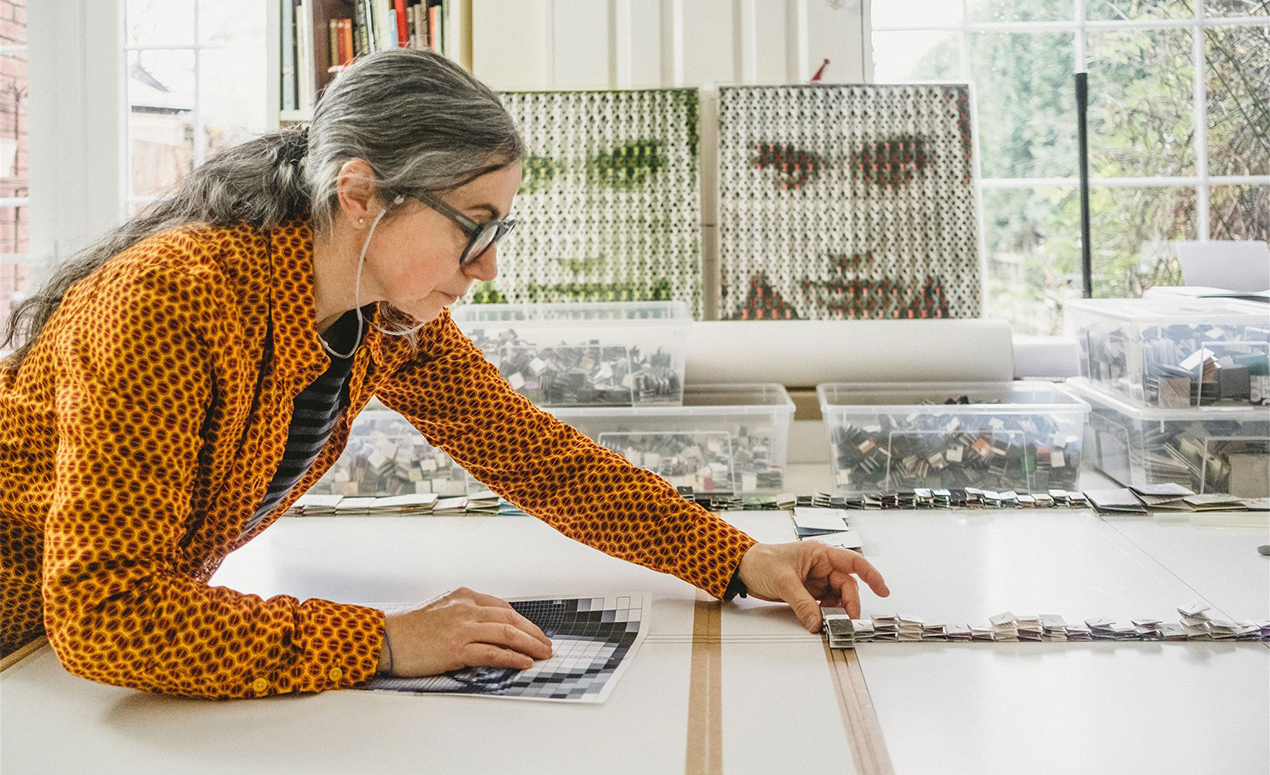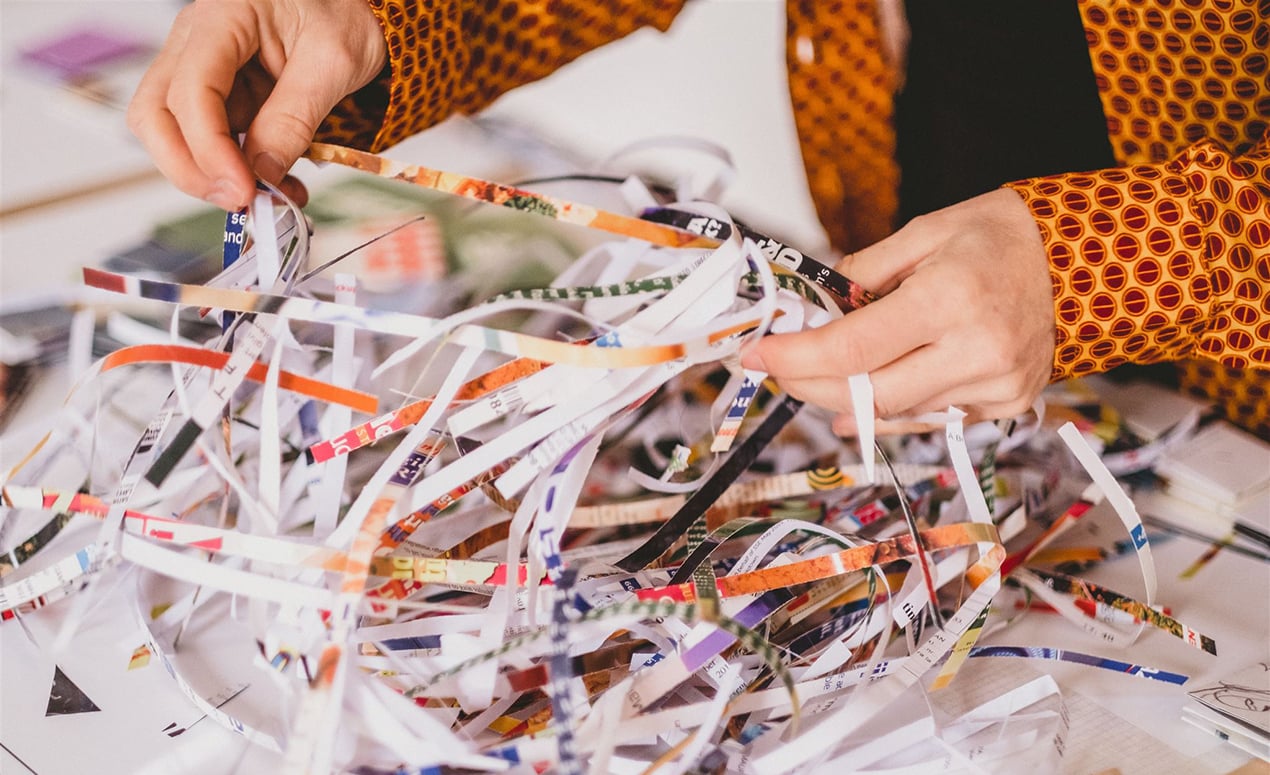 Inspired by her parent's way of living, a young Paola would create her own toys by cutting out the pages from old magazines laying around the house and fold them into concertinas. In her fantasy, the concertinas would then become dolls or furniture in an imagined house. The passion for creating grew as she got older, but her parents didn't want her to pursue an artistic career.
– Instead, I enrolled in an architecture university since it was the closest thing to being an artist that they would allow me to study. I kept doing art by painting portraits, but only as a hobby, Paola says.
Standing in her office in Milan a few years after graduating, she was cutting pictures and pieces of paper as she developed a mood board for a client. While her mind wandered, she picked up a piece of the leftover paper and instinctively started folding it just like she had done as a young girl. After some time, her office desk was overflowing with concertinas.


– That's when the idea of creating art with concertinas started to take shape in my mind. Sometime later, I used them to make my first collage hung it in my kitchen. Everyone who visited liked it and told me I should continue, Paola says.

Old paper gets a new life
After moving to Manchester because of her husband's work, she quit her job and finally got the time to focus entirely on her art. She converted one of the rooms of house into a studio and began experimenting. Besides concertinas, she has used stripes of paper to create 3D portraits and right now she's working on new series using paper meshes to create faces in glass cubes. All of the paper has had previous lives before it ended up in Paola's artworks. Most of it as a cover of a magazine, others as leaflets or pages in a newspaper. By utilising recovered printed paper, which it's one of the mediums through which advertising messages are spread, she wants to show how our identities are defined by the world we live in as well as limiting her environmental footprint.
– We are what we buy and consumption functions as a way to create a sense of self. But consumption has a momentary nature in the same way as our identities are temporary and changeable. Another reason is that I want people to think about environmental issues. The fact is that extreme consumerism is ruining our planet, Paula concludes.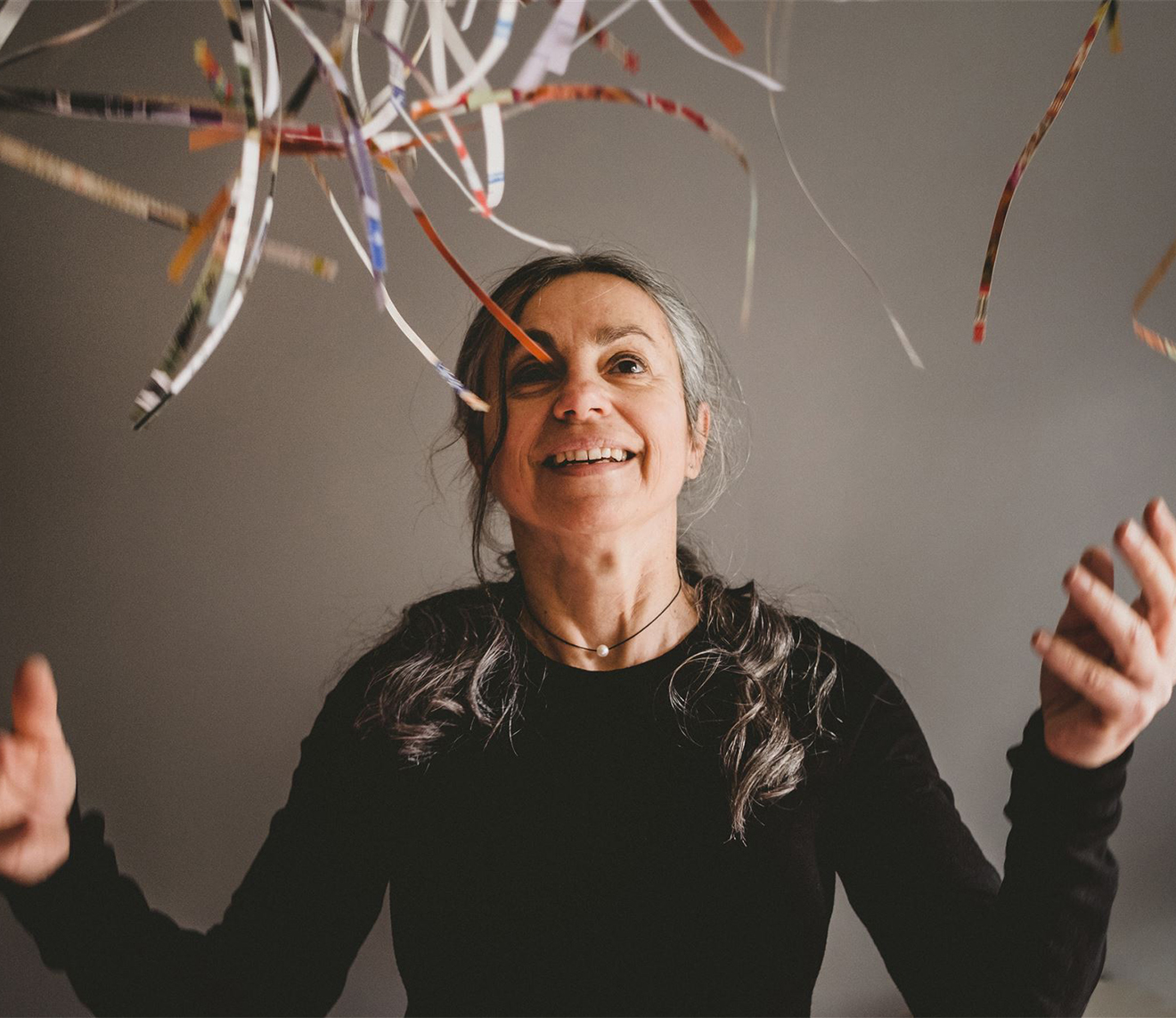 FACTS
Name: Paola Bazz
Title: Artist
Favorite material: Old magazines
Favorite tool: Shredding machine
Web: www.paolabazz.com