Zuzanna Dolega
When fire is your paintbrush
Poland 19 Feb, 2020. Photos by Daria Szczygiel.


One could think that fire and paper is an unsafe combination, but for the artist Zuzanna Dolega it's a perfect match. She has worked with fire and pyrography since 2012 and uses it together with paper. Zuzanna and the fire have become a creative duo where they follow each other towards the same artistic goal – to gather people.
When the artist Zuzanna Dolega, from Gdansk in Poland, first discovered fire as an artistic tool it was a bumpy ride forward. A lot of her early artworks literally went up in smoke. But over the years, she has learned how to master the fire and sometimes she lets the fire lead her wherever it wants to go. It has been an experimental journey, which has evolved into a unique expression for Zuzanna, who's probably the only one in Poland using it. For her, it's a form of meditation and she finds inspiration from nature, herbariums, medical atlases and handwritings. She wants people to come closer to nature through her art.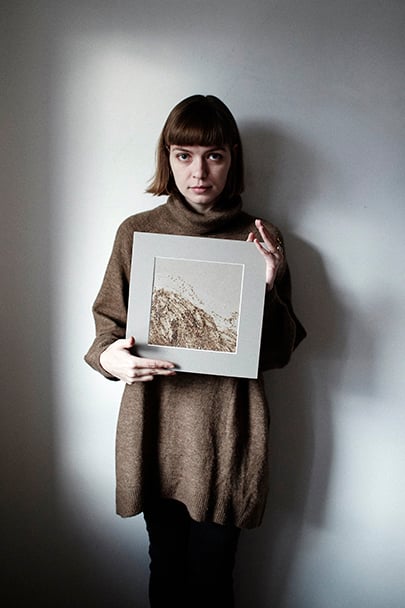 – Fire was the first element that really connected people. It was something to gather around and made us come together. We live in a most digital time now, with technology surrounding us, I want people to get closer to one another and connect with nature. Using fire with paper also brings out the smell of wood from the paper, so people can really feel the material. For me it's something primal and beautiful, says Zuzanna.
"The choice of paper is crucial when working with fire as a tool."

Finding the right path
Growing up in a very artistic family, with a painting mother and always surrounded by music and literature, one can think that Zuzanna's life path was well predicted. But at first, Zuzanna's dream was to become a theatre director, partly because she was young and stubborn and didn't see herself as the future artist. However, after some research, she found out that many directors have an artistic background, and she, therefore, decided to apply for the Academy of Fine Arts in Gdansk. With enormous support from friends and family, Zuzanna found her path and destiny again and rediscovered her passion for art. Her heart always belonged to art, but the freedom of choosing made her get lost along the way. Now, Zuzanna's working on her PhD in Fine Arts and works full time as an assistant at the Faculty of Painting. On top of that, she has exhibitions all over Poland and creates with fire whenever she has the time. Paper plays an important role for Zuzanna, who always is in the search for the perfect paper.
– The choice of paper is crucial when working with fire as a tool. I can immediately feel if the paper is synthetic or not. I love the smell of paper and old books, and I always browse for organic and as eco-friendly paper as possible. One of my goals is to have zero to very little waste of paper in my process, and to a large extent I try to reuse and recreate from used paper cuts or leftovers, says Zuzanna.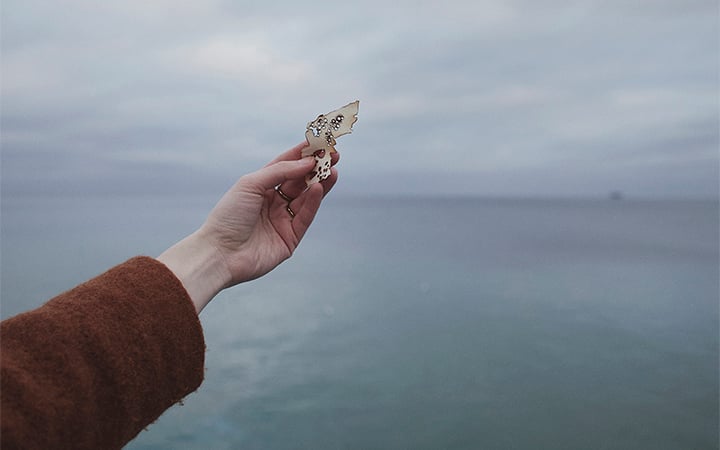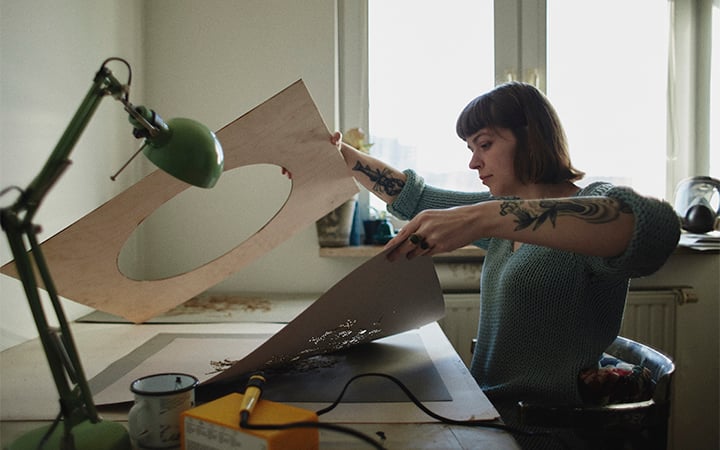 Becoming an artistic nomad
Zuzanna's main focus right now is to finish her PhD later this year. After that, she's looking forward to an exciting future and has decided to go wherever her art brings her. One of her dreams is to become a nomad, travelling around the world and explore different cultures and approach to their writings, with her art as a companion. She wants to discover how different cultures make and uses paper and take inspiration from that to her own art. Perhaps she will find other artists out there who also use fire and paper combined.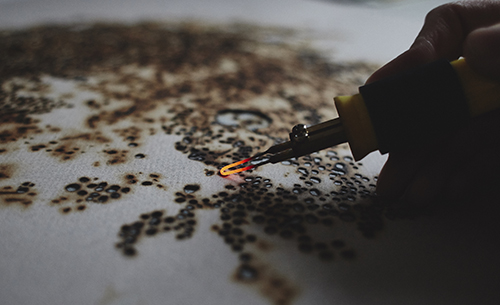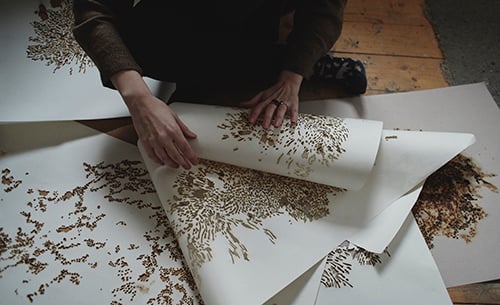 – I know there are other artists that use this form of expression, but I imagine that they are introverts like myself. We probably haven't got a community as other artists might have. This way of working is sometimes not so pleasant for others, because of the smoke, so I often sit by myself. But even if it seems lonely it's extremely meditative for me. It's the only moment when I can truly be myself and just follow my thoughts. The fire leads me and after a lot of practice and listening to my heart I have found my way in life, Zuzanna concludes.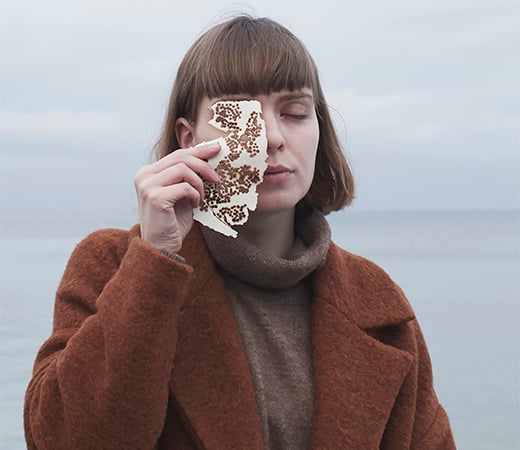 FACTS
Name: Zuzanna Dolega
Title: Paper artist
Favorite material: Eco-friendly paper
Favorite tool: Fire, pyrograph
Web: zuzadolega.blogspot.com