Fjelltopp
The nordic mountain landscape come to life with fjelltopp's illustrations
Sweden 24 Jun, 2021. Photos by Jonathan Eyre.
Since three years back Mathias Eriksson and Emeli Nilsson have been running their design studio Fjelltopp. Based in Tänndalen, North of Sweden, the couple create posters with mountains as their signature motives and the nature surrounding them as their main inspiration.


Video on YouTube: youtu.be/dV2oH_pHl-I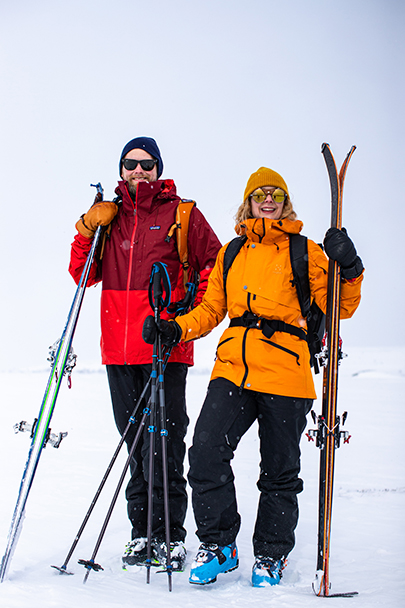 The story behind Fjelltopp began with a life changing decision in the spring of 2018. Mathias had earlier gotten worn-out from a stressful job as a manager at a design agency in Stockholm. During the same period of time Emeli decided to change her professional direction from marketing and began to study communication at Berghs School of Communication. After finishing her one year studies she found herself without a job, and at the same time Mathias' sick leave from work had really gotten the couple to think. All of a sudden the couple stood in front of a new chapter in life, they decided to swap the stressful city environment to a timber house in Tänndalen.
– These kinds of stories are so typical. Something happens in your life and it changes your perspective. But that was literally the case, we realized that we needed to begin a life that we actually wanted. In Stockholm it was always about work and titles and how many hours a week that you can fill with work. All of a sudden we just didn't feel it anymore, says Mathias.

A design company for mountain lovers
Shortly after the big move the couple started their very own company. Emeli dove further into photography which had always been an interest of hers, and Mathias began sketching the environment surrounding them. Three years later the couple have combined their passion for paper and mountains and are now well known in Scandinavia for their personal posters.
– We feel very privileged to be able to work with paper. Digital media and keyboards can make you feel disconnected, but when we found paper it sort of opened up a new world to us. Every time when we sketch a new piece we keep in mind which kind of paper that will work for that specific motive. It might sound corny but we find that combining the analogue and digital technique gives our posters more of a soul, and in the end of the process we've created something that we are actually really proud of, concludes Emeli.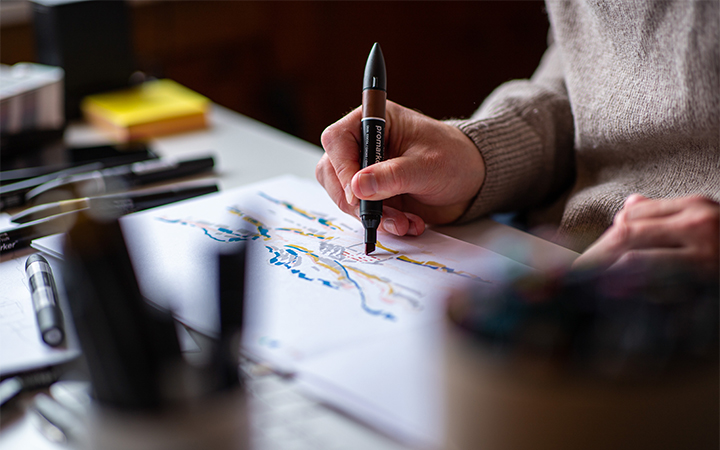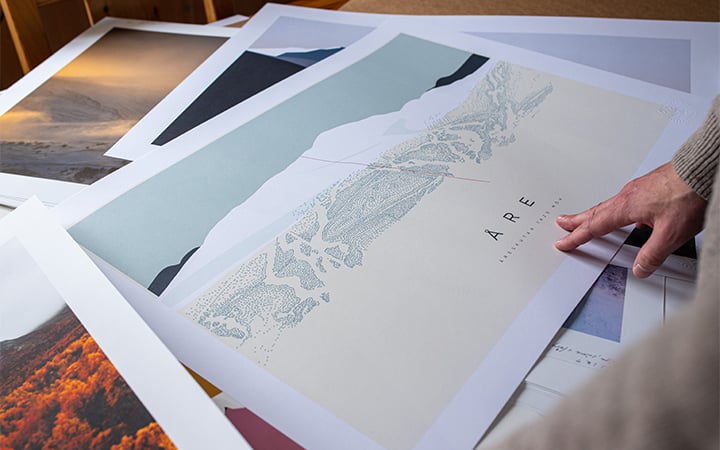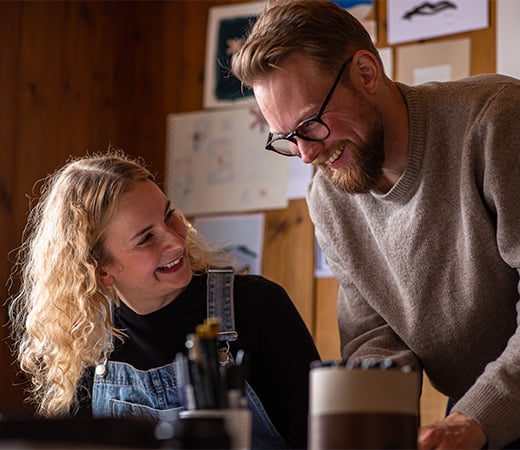 FACTS
Name: Emeli Nilsson & Mathias Eriksson
Title: Co-founder & Photographer / Co-founder & Designer
Favorite material: Paper with a rough natural feel (Colorplan Collection)
Favorite tool: Hiking boots
Web:

fjelltopp.com