Karin Ohlsson
In Sweden we call it a fika – Meet the illustrator behind the famous character
Sweden 18 Mar, 2021. Photos by Jonathan Eyre.
A few years ago, a plump old man, often dressed flamboyantly, freed Karin Ohlsson from a life of structure and rules. Through humor and artistic skill her illustrations of the man and his surroundings appeal to many. These days he can be seen everywhere from ad-campaigns for Volvo in Taiwan or on the walls of many Swedish homes.

– He is easy to like. Sometimes I use him as a megaphone if I want to say something. Other times, he is just a funny character to put in different situations, Karin Ohlsson says.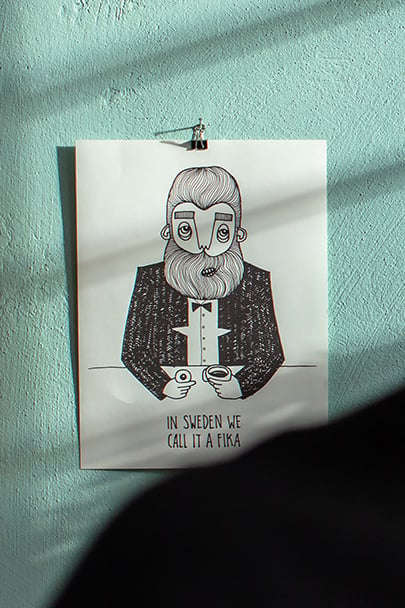 A lot of people visiting Stockholm end at some point up at the interior design store Designtorget to admire the Scandinavian design or buy a souvenir. Quite a few of them fall in love with one of the trays with a black and white illustration of an, in this case, well-kempt, older man in a suit drinking coffee and the text "In Sweden we call it a Fika". In other illustrations the bearded man is dressed in more peculiar clothing, sometimes in a dress or a bathing suit, often sharing the frame with other characters and a clever wordplay or a joke. The character was first drawn ten years ago by the artist Karin Ohlsson while she was working as an Art Director at a Stockholm-based advertising firm.
– My work was very structured, I needed an outlet for my creativity, so I started posting my drawings on Instagram. The praise I got from my followers encouraged me to post more and start to experiment to see what people would say. It gained traction and when I was on my first maternity leave, I decided to give it my all and never returned to the advertising firm.
"It's always been way more important for me to entertain people, rather than impress them"
Rather a smirk than awe
Originally from Östersund in the middle of Sweden, Karin moved south to Sundsvall in her early twenties to study Graphic Design and Communication before landing the job as an Art Director in the capital after an internship. Growing up she always liked to draw, but her passion was almost extinguished by zealous teachers wanting her to have a more technical approach to the craft.
– I loved my schoolteachers growing up, don't get me wrong, but I liked to make funny drawings, not technically impressive. When there are too many rules it kills my fire. It's always been way more important for me to entertain people, rather than impress them. If someone smirks at my drawing and thinks it's witty, I've succeeded.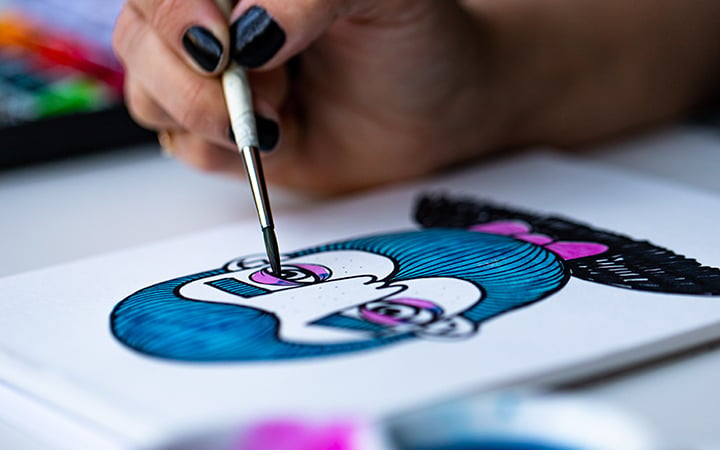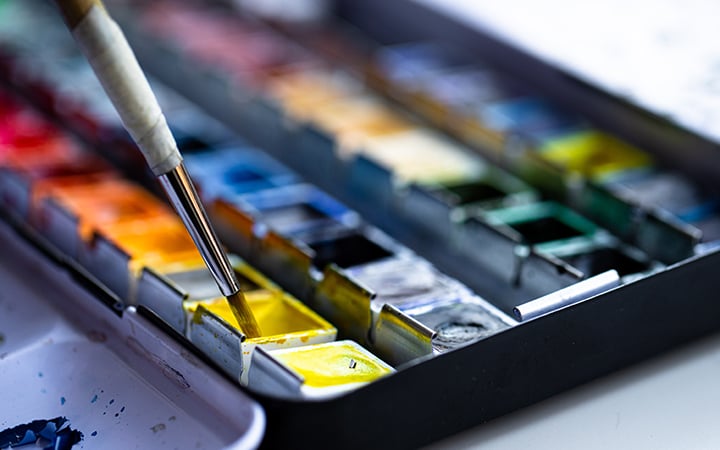 Bahkadisch in Taiwan
When illustrating the older man and his world, Karin does it under the company name Bahkadisch. The first part of the word, bah, derived from the Swedish word "bara", in this context meaning "just" or "like", which was an often-overused word when Karin grew up (equivalent to the American "you know what I mean").

Kadisch is the onomatopoetic word describing the sound of a cymbal; a celebratory noise that Karin often made as a child. These days, Bahkadisch-illustrations can be viewed far from the borders of Sweden. Recently Volvo Taiwan ran an ad-campaign featuring Karin's characters.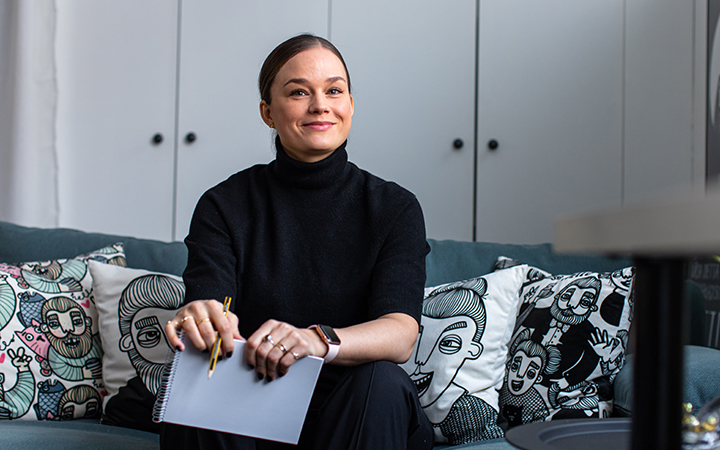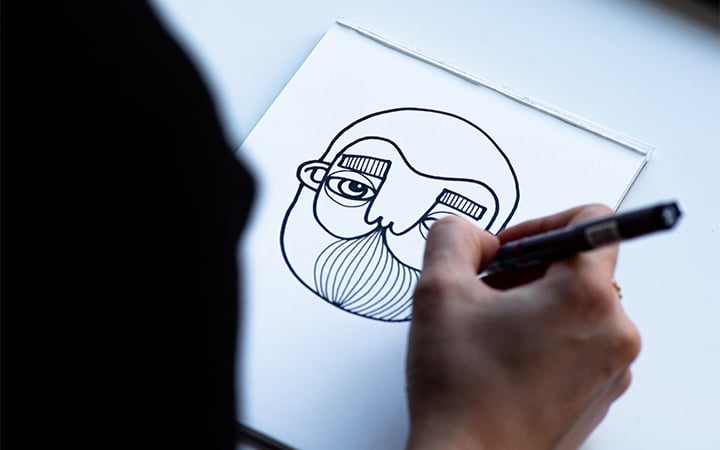 – It's very flattering when companies approach you for collaborations. Especially when they reach out to me because they want my particular style. When they want something else, outside of my comfort zone, I get a little stressed and start to question myself. It feels a bit like being back in school and have to follow rules again.
The paper dilemma
For a long time, Karin's illustrations consisted of only black lines on white paper. A black fine liner-pen is still her preferred tool, but since adding watercolor to her illustrations a few years ago she feels like her art has gained a dimension. She loves how the colors mix with the texture of the paper, often with a weight between 240 to 320 GSM, but it mustn't bleed.
– It's a balance. I love being able to see the fibers in the paper, but unfortunately, the texture often makes the lines drawn with ink smudge, so I often choose a flatter alternative. Sometimes I use textured paper though, despite that it often takes me longer to finish a piece. After all, to work with a pen and paper, completely analogue without a computer in sight, is the best thing I know, Karin Ohlsson concludes.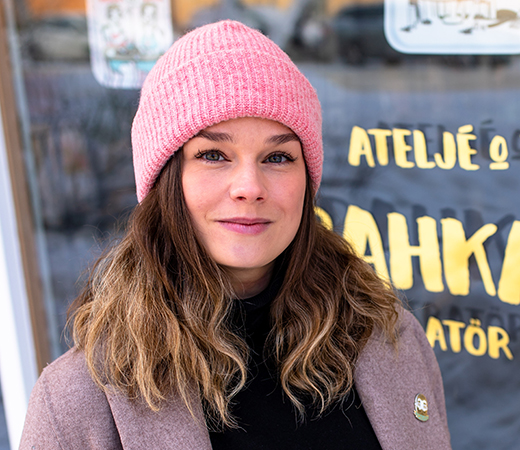 FACTS
Name: Karin Ohlsson
Title: Illustrator
Favorite material: Black fine liner-pen
Favorite tool: Paper that doesn't bleed
Web:

karinohlsson.com