Henrik Nygren
The systematic designer with an eye for structure
Sweden 1 Jun, 2018. Photos by Margareta Bloom Sandebäck.


For many years, Henrik Nygren has worked with numerous famous artists, outstanding architects and photographers around the world, and has been commissioned for MoMa in New York. Yet, he sees himself as a man without ambitions, but with an incredible desire for order and structure. In Paper Passion, he tells us about his love for Gotland, his relationship with paper and the unforgettable meeting with the legendary graphic designer, Paul Rand.
In the old brewery premises on Åsögatan in Södermalm, Stockholm, we find the design agency Henrik Nygren Design. The company was founded in 1991 and it's a place where many Swedish and international museums, galleries, publishers, architects etc. have found their form of books, exhibitions, identities and graphic expressions. Much created here are analog projects, where paper and other materials are incredibly important and nothing is left to chance. It's also the place where Henrik Nygren has found home.
When Henrik was four years old, the family moved from Uppsala to the Swedish island Gotland, a place where he found himself comfortable and without a desire to leave. Somehow, he still ended up in Stockholm in the early 80s, where he without knowing it, started his journey towards graphic design.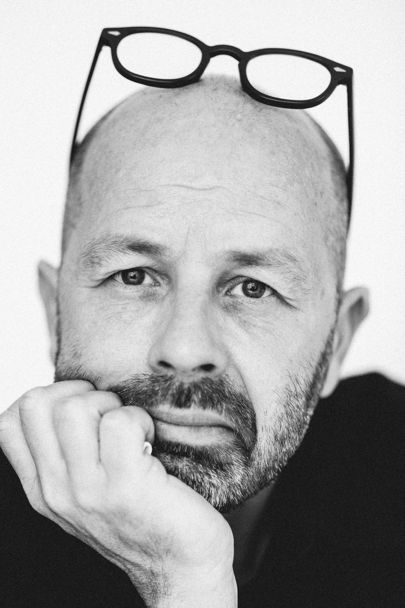 – When I think of my youth, I can't remember ever having any specific ambitions. I enjoyed my life as it was, I loved Gotland and did not think about the future. I have never had big dreams about this profession, or inherited any professional creativity from my parents. I was a boy who loved order, structured my tools and liked crafting, and that's it, says Henrik.
After military service, followed by cadet school in Skövde, Henrik ended up on a train to Stockholm, together with a friend, without knowing what the future would bring or with any specific goals. He took a job as a janitor at an accounting firm. A profession he would hold on to and a role he still, in a way, sees himself in. Thanks to his mother's brother-in-law, Johan Fischerström, who was an advertising manager at the big telecom company Ericsson at the time, Henrik once again ended up in a janitor role, but now with completely different possibilities.


– Ericsson had its own advertising department and a large studio with photographers. I got the chance to try out some small assignments like making a poster or a diploma. Later, I applied for a job as a designer at an agency downtown. I soon became manager but still didn't feel like I was working with something creative. I solved tasks and managed projects where the process and the materials themselves was very important to me, says Henrik.
"The best qualities paper and other materials have is that they can convey a certain feeling and add value to the original idea."

The crash that became a turning point
The happy 80's, when everyone had their pockets full of money and a world of possibilities, got a dreadful ending when the stock market crashed in 1987. The Stockholm stock market value broke over 40 percent in just a few weeks, which led to many companies shutting down and firing their employees. This also happened to Henrik, who had worked for one of Sweden's most successful advertising agencies, Hall & Cederqvist, for a couple of years.


– Maybe it was for the better. I had a job that people would have killed for back then, but to be honest, I wasn't happy there. When the stock market crashed, it was last in, first out, so I lost my job, along with 30 percent of the employees, says Henrik.


The lack of work lead to a realization for Henrik. The years in the advertising industry had made him confused and lost, and he began to think about what he really wanted to do in his life. He rented an office space from his friend Björn Dahlström, at Rörstrandsgatan in Stockholm. Every day he walked past a goldsmith shop owned by Maria Elmqvist. One day, Henrik went in to her shop and asked if he could do a project for her.


– It was my first real job on my own. I made an invitation and a poster for her exhibition at Nutida Svensk Silver, and I did it for free. I wanted to do it completely my way, use materials of my own choosing and control everything myself. That project, and several others in 1991, was important to me and was the beginning of my own company, says Henrik.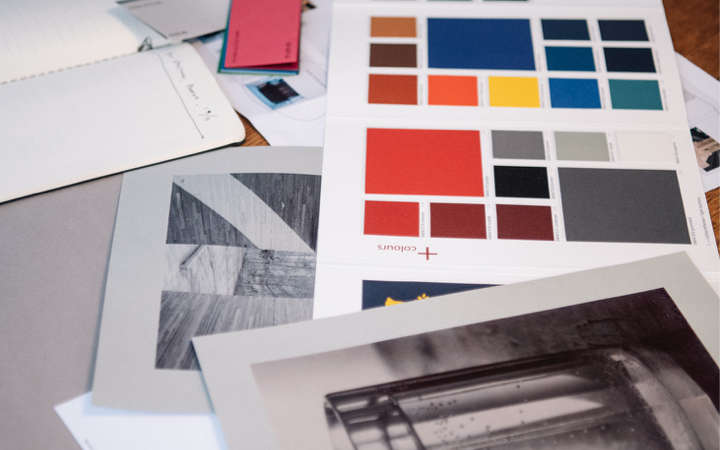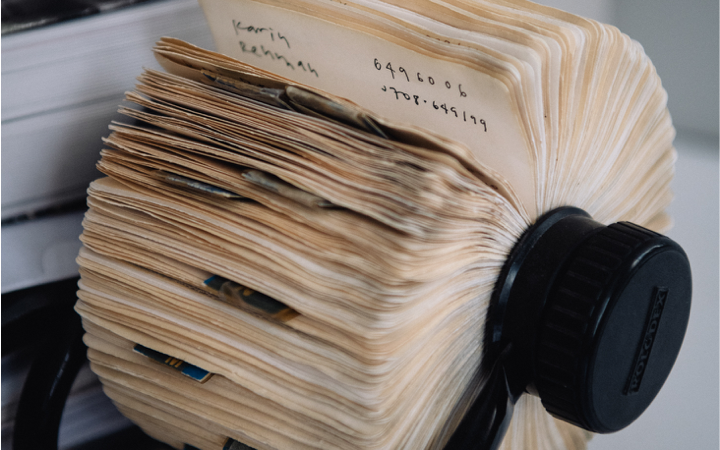 The fortunate crossroads
Henrik began his career and got more and more assignments. Since he's self-taught, he has never felt the need for higher education, but he took an evening class at Berghs School of Communication in Stockholm and a number of typography classes with Carl Fredrik Hultenheim. In the summer of 1994, Arne Gustafsson, the principal at Beckmans at the time, invited the legendary graphic designer Paul Rand to speak. Henrik was there and got blown away. He also became aware of the renowned Yale Summer Program for Graphic Design, run by Paul Rand with Dorothea and Armin Hofmann, in the small town Brissago, Switzerland. Henrik got the opportunity to be one of the few accepted students.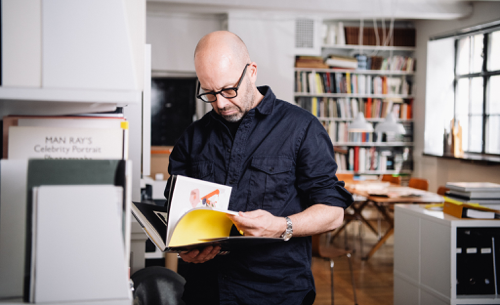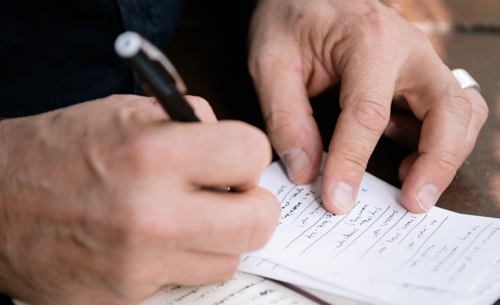 – It was like being a priest from the countryside get the chance to come to the Vatican and study with the Pope for six weeks. It was amazing and I learned so much. We had a list of materials we had to buy, everything from specific pens and rulers to brushes and papers that we would use in different courses. Every student came from a different part of the world, but we all had the exact same materials. And all the teaching was analog. Besides having an incredible experience meeting Paul Rand and the other teachers, I also met my future wife, Susanna Barrett, there, says Henrik.


Today, Henrik Nygren Design has a lot of well known clients in it's portfolio. At the moment, they are working with the famous artist Olafur Eliasson and the architect Gert Wingårdh, but over the years they have been commissioned by MoMa in New York, IKEA, and the photographer Gerry Johansson, just to name a few. They have won prestigious prizes, referrals and have been nominated countless times. Nevertheless, Henrik believes that he ultimately works with solving projects and create sustainable solutions. In a way, he has never left the janitor role.


– As for everyone, our commissions and our clients have given us certain conditions depending on the project. A solution can come from anywhere, when I or one of my colleagues find material we have forgotten about or ask the wrong question for example. I don't think we have an advanced creative process. We present a viable solution through a lot of conversations and an understanding of what the client wants and really needs, says Henrik.

With great respect for material
All projects Henrik and his team create eventually ends up as something substantial, something you can touch. Henrik believes that the choice of material is extremely important, as well as to understand the entire chain, from idea to finished product, in order to do things right. The best qualities paper and other materials have is that they can convey a certain feeling and add value to the original idea.


– I'm pretty thorough when we work. We have good contact with our suppliers. We follow the process and always try to deliver a finished product – not just a solution or idea. In the end, everything should work together and be connected. It's just like designing and making a suit; in the beginning, there are thousands of questions and opportunities. And in the end, there are only a few well-chosen pieces of specific materials that carefully should be sewn together, so that we and the customer feels comfortable, says Henrik.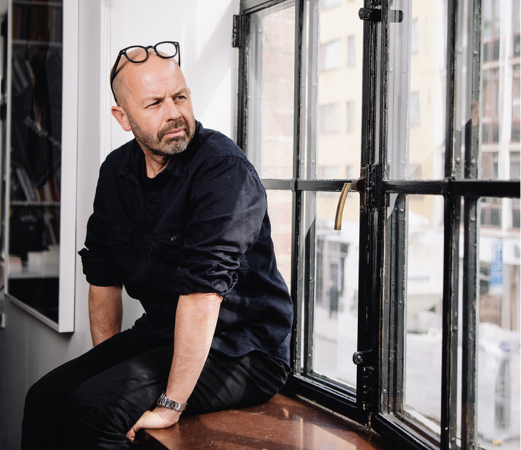 FACTS
Name: Henrik Nygren
Title: Creative Designer

Favorite material: Untreated