Zoe Bradley
When paper makes a true spectacle
United Kingdom 18 Feb, 2020. Photo credit under each image.
Zoe Bradley has made a name for herself with her unique and spectacular creations in paper. Her work has caught the eye of iconic fashion houses and led to collaborations with Christian Louboutin, Tiffany & Co, Louis Vuitton and Harrods among others.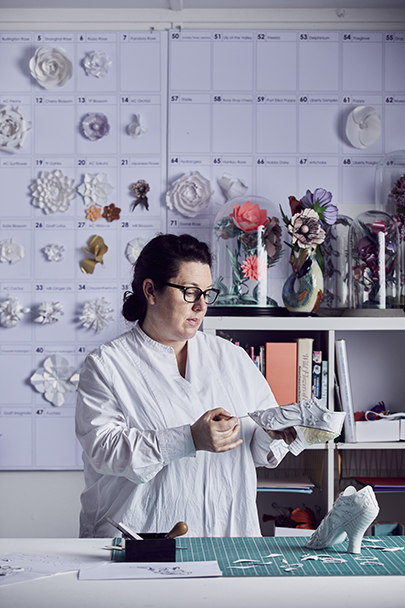 Photo: Alun Callender
The paper artist Zoe Bradley grew up in the countryside in Warwickshire, UK. Naturally creative from an early age, it was the unique teaching ethos at her secondary school 'Trinity' in Leamington Spa that expanded Zoe's creative mind. Zoe describes how her schooling of enquiry-based learning stemmed from a revolutionary headmaster, Peter Hastings, who positively encouraged the students, and instilled in each of them they had a unique gift. The teaching was encouraging within all areas of the visual and performing arts. Zoe's gift turned out to be in creating wearable art, using paper.


After finishing secondary school, she went on to study a foundation in art and design, specialising in textiles and fashion, before taking the step to leave Warwickshire to pursue her dreams. It led to her studying BA Hons Fashion Design at Middlesex University in London. Her first-year fashion tutor, Richard Gray, who at the time was working as an illustrator for Alexander McQueen, became one of Zoe's most significant mentors in her career. During this period Zoe spent a lot of time designing clothes that were more theatrical than commercial, many having a strong sense of structure with extreme silhouettes.
"It's less of a job after a while and more of a labour of love."

Sotheby's Crown. Photo: Getty images
In her first year at university Zoe came across paper in the form of pattern cutting in order to design the clothes that she was working on. Ironically, Zoe wasn't fond of working with paper for pattern cutting or its mathematical process.
– I found it restricting, mostly for the fact that it had to be so precise and lined up. You couldn't be one millimetre out of line. I was better at working on the stand, it was freer and more organic. My feelings about paper definitely changed later on, says Zoe.
Becoming a paper ambassador
During Zoe's third year, Richard noticed Zoe's talent and suggested she apply to be an apprentice at the Alexander McQueen studio. After viewing her portfolio, they were excited by her avant-garde approach, demonstrating her skill to create more extreme theatrical pieces. Zoe describes her time working as an apprentice for McQueen as challenging but inspiring, learning from such a visionary designer. It made her develop an endurance for a career in fashion. After finishing her apprenticeship, she went on to collaborate with Japanese designer Michiko Koshino, making showpieces for the designer's catwalk show. This experience really ignited Zoe's passion in creating spectacular designs using paper as one of the main materials. She loved the process and the results paper could immediately form.
Due to a tight budget Zoe explored paper as a medium for expression. She was stitching the paper, applying ribbon as binding, pleating and folding it just as a fashion designer would work with conventional fabric. This sculpting method, allowed for the 2D paper to become a wearable 3D dress or headpiece. Having worked in paper for nearly two decades, Zoe now works from her studio in Wales near her rural home. Working with a small team of 4 supported by interns and freelancers she tries to teach and inspire the same way that she was taken on at McQueen's. While many of Zoe's paper sculptures can only be displayed for 3–6 weeks, this can be quite disposable and are often destroyed after they have been displayed. However, she has an archive storage for more important works that she hopes to exhibit in a future show case or exhibition of her work, to inspire the next generation. With all of her experience in the paper business, Zoe has become knowledgeable about the idiosyncrasies of paper. Zoe says that at this point she could be an ambassador for paper.
– I've got a bit geeky, I can touch a paper and go "that's 80 gram, that's 100 grams", I can tell if something will look good in certain lights, and how it will fit with a client's products.

Photo: Alun Callender
Not just a job – a lifestyle
Zoe is currently living and working in Wales and like many other businesses, the Coronavirus has currently put her installation work on hold. However, Zoe is keen to try and look at the positives. It has allowed her time to reflect on her work and spend time doing personal projects within the studio, which is a welcome rest. Zoe has trained many interns over the past decades.
– Interns really do leap into the deep end when they start. I encourage them to swim on their own. I was taught to swim on my own as an intern at Alexander McQueen, it's a good way to build up strength and stamina for jobs with long hours, tight deadlines and the pressure that it can bring. You become very disciplined. It's less of a job after a while and more of a labour of love, concludes Zoe.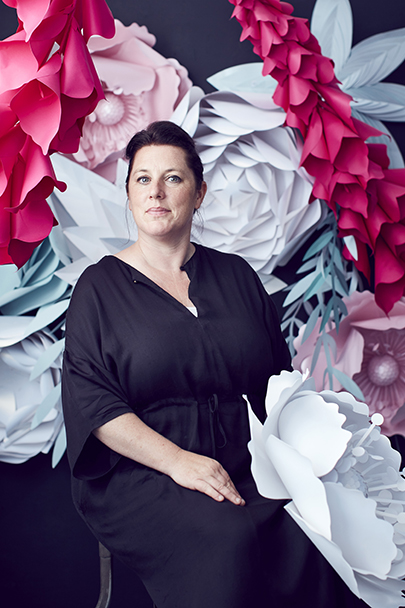 FACTS
Name: Zoe Bradley
Title: Paper Artist/Concept Designer
Favorite material: Metallic paper